RACING THIS WEEK
FEATURES
SERVICES
Fair Meadows 2023 Condition Book is now avaialable.

© Fair Meadows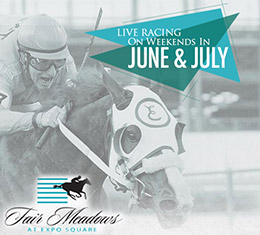 Fair Meadows, Tulsa Important Horsemen Information
TULSA, OK–MAY 25, 2023–The 2023 Fair Meadows, Tulsa Conditon Book is now available online. CLICK HERE to download.
New this year at Fair Meadows:
> Hair Testing is Required for Entry (QH,P,A). For more info on
hair testing - (405) 881-5120
> Entries will open at NOON and close by 3:00. This is new,
but the intention is to allow trainers to train in the morning
and then be able to get their entries in quickly after the
track has closed.
> First entry day for QH's will be Saturday 6/3
> First Race day for QH's will be Friday 6/9
> Zero date at FMT is 5/31
If you want to send your papers from Remington Park to Fair Meadows, please let Vicki in the Remington Park racing office know ASAP.
CLICK HERE for track training hours!