RACING THIS WEEK
FEATURES
SERVICES
Painted Turnpike, with Cody Smith up, concluded his perfect 2018 season at Remington Park, winning his third straight stakes event of the year, the National Cowboy & Western Heritage Museum Stakes for a third consecutive year.

© Dustin Orona Photography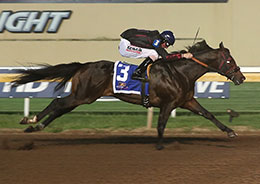 Painted Turnpike Wins Third Straight National Cowboy & Western Heritage Museum Stakes at Remington
OKLAHOMA CITY, OK—JUNE 1, 2018—
Painted Turnpike, the three-time World Champion Paint, concluded another dominating season at Remington Park on Friday, winning the Grade 1, $38,300 National Cowboy & Western Heritage Museum Stakes.
The 5-year-old horse won the event for the third consecutive year.
Owned and bred in Oklahoma by Nolan Pevehouse of Webbers Falls, Okla., Painted Turnpike is trained by Matt Whitekiller and was ridden by Cody Smith. Painted Turnpike usually has a solid start but was outstanding in leaving the gate to begin his 440-yard journey.
"He kind of got away so-so his first out this year and got away really good in his last one," Smith recalled of his stars starts. "Tonight he got away exceptional. He left there running and it was pretty much game over at the first jump."
Painted Turnpike continues to amaze his connections as he competes with great consistency and outstanding effort. "He's just unreal. It makes our job easy," Whitekiller said. "He makes it look like we know what we're doing and it's not all us. He's just something special."
Painted Turnpike hit the finish line in :21.628 over a fast track while never really being asked by Smith for more. He was 1-3/4 lengths ahead of Jess Cuz who was second with PHQ Goodbye Earl along for third, another head behind the runner-up.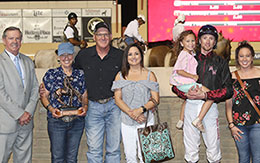 Reminton Park General Manager Scott Wells (left) presents the National Cowboy and Western Heritage Museum stakes trophy to the winning connections of Painted Turnpike.
© Dustin Orona Photography
The heavy wagering favorite at 1-5 odds, Painted Turnpike paid $2.40 to win $2.40 to place and $2.10 to show. Jess Cuz returned $3.60 to place and $3.60 to show. PHQ Goodbye Earl paid $5.60 to show.
The National Cowboy & Western Heritage Museum Stakes win now gives Painted Turnpike 23 career victories from 26 starts. The horse won his 13th Remington Park race, an all-time record for the American Quarter Horse, Paint and Appaloosa Season. He is also enjoying an 11-race win streak that dates back to October 21, 2016.
Painted Turnpike is a Paint horse by Pyc Paint Your Wagon (QH) from the SF Royal Quick Flash mare High Class Turnpike. The first-place check of $22,656 boosts the lifetime earnings for Painted Turnpike to $439,581. He is the all-time leading money earner in Paint racing history.
The final race night of the Remington Park season takes place Saturday, June 2 with a loaded 12-race program featuring eight stakes events, led by the Grade 1, $1,024,840 Heritage Place Futurity. The big-money night will begin with a special post of 5pm-Central.
* * * * * * * * * * * * * * * * *
Tracked by over 140,000 fans on Facebook and more than 9,600 Twitter followers, Remington Park has provided over $192 Million to the State of Oklahoma general education fund since the opening of the casino in 2005. Remington Park, Oklahoma City's only Racetrack & Casino, is home to the $1,024,840 Heritage Place Futurity, on Saturday, June 2. Located at the junction of Interstates 35 & 44, Remington Park is in the heart of the Oklahoma City Adventure District. For more information, reservations and group bookings please call 405-424-1000, 866-456-9880 or visit remingtonpark.com.