RACING THIS WEEK
FEATURES
SERVICES
Golden Boi, under jockey Ruben Lozano, won the opening trial by 1-¼ lengths t set the fastest qualifying time.

© Scott Martinez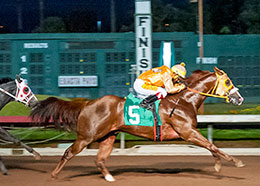 Golden Boi Is The Golden State Million Futurity Fastest Qualifier
LOS ALAMITOS, CA—OCTOBER 10, 2021—
M&G Farms Inc's Grade 1 Ed Burke Million Futurity winner Golden Boi has his sights firmly set on his second million-dollar futurity victory after a spectacular trial effort when posting the fastest qualifying time to the Grade 1, $1,112,300 Golden State Million Futurity on Sunday at Los Alamitos.
Racing from post number five, Golden Boi was bumped from both sides and seventh in the field of eight at the start of his race. A son of leading stallion Favorite Cartel and the multiple stakes winning mare Logans Dash, Golden Boi trailed the early leaders by daylight, but he quickly picked up speed once he had a clear path to the finish line.
The M&G Farms-bred runner rocketed from there, going on to win easily by 1-¼ lengths.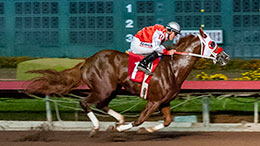 Just A Kool Boy, under jockey Jimmy Brooks, was a 1-¼ length winner in the fourth trial on Sunday night.
© Scott Martinez
Ridden by Ruben Lozano for trainer Valentin Zamudio, Golden Boi covered the 400 yards in :19.758 to post the fastest clocking among the 92 horses that competed on a busy night of 11 Golden State Million trials.
"That's something that is hard to describe," said Zamudio about his trainee's come-from-behind win. "It was something very impressive what the horse did tonight. We had a few errors leaving the gate and I didn't know if he would close or that he would have room to pass other horses."
Chizum, under Cruz Mendez, defeats In Hott Pursuit in the sixth trial race.
© Scott Martinez
Credit Lozano for keeping cool aboard Golden Boi, as he waited for a space to operate, while knowing that the 400-yard distance afforded him the time to catch Hallelujah Nights.
"(Golden Boi) got a chance to get going and he started running and then he took off," Zamudio added. "Fortunately, we did things right at the end. Ruben said that he has a lot of heart and that he's a heck of a horse. He didn't think he would find room to go, but things opened, and he ran great. Golden Boi came back from the race great."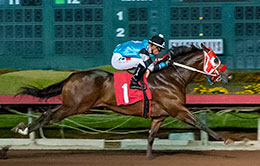 Fortunate Corona, under jockey Armando Viramontes, qualifying in the third trial Sunday.
© Scott Martinez
The winner of the Ed Burke Million on June 20, Golden Boi has now won four of six career starts and earned $463,925 this season. He came into this race after running third in the $25,000 California Breeders Freshman Stakes on August 1.
"We gave him some time off and a workout before this race," Zamudio said. "He came in looking good after his rest."
Reigning AQHA champion trainer Eddie Willis won the Golden State Million last year with Apollitical Gold. He'll have a chance to make it two in a row after Adina Baker's Just A Kool Boy won the third trial by 1-¼ lengths and in the second fastest qualifying time of :19.801. The Favorite Cartel colt out of the stakes winner Just Eagle came into this race after breaking his maiden at Los Alamitos with a daylight victory on September 25.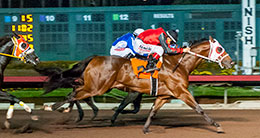 Whizkey Glasses (#7), under jockey Jesus Ayala, holds off Dasha Dynasty (#4) in the 10th trial on Sunday night.
© Scott Martinez
"We waited on (Just A Kool Boy) a long time," Willis said. "He had little issues early so we waited. He's doing good right now. Maybe he'll make a little money. My horses have looked good. My middle son, Kasey, is out here. Everything is going good."
Jimmie Dean Brooks rode the Garrett Baker-bred Just A Kool Boy from the rail in his trial win.
Ricardo Ramirez's Chizum posted the third fastest qualifying time after defeating Ed Burke Million runner-up In Hott Pursuit by ¾ lengths in the sixth trial of the night. Cruz Mendez piloted the Tempting Dash colt, who came into this race after finishing sixth in the $200,000 All American Juvenile Stakes at Ruidoso Downs.
"He ran well in Ruidoso, but I'm happy that he's back home at Los Alamitos," trainer Jose Flores said. "I think he's getting back to his normal self after spending most of the summer at Ruidoso Downs. I think he likes California a little bit more, and he's done well here."
From four starts at Los Alamitos, Chizum has won three races and finished fourth in the Ed Burke. The late John Andreini bred the gelding in Texas from the Tres Seis mare Ms Eaves.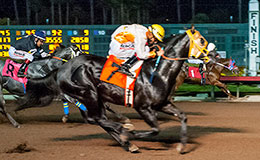 Minecraft (#7), under jockey Sergio Becerra, Jr., qualifying in the seventh trial on Sunday.
© Scott Martinez
Flores also qualified with Dasha Dynasty, who was second to Whizkey Glasses in the 10th trial of the night.
"I'm so proud of him," Flores said. "He ran a gallant race. He'll improve in the final. He needed this race. If he comes back good, he'll be tough in the final. He's bred for this distance and I'd love to see him duplicate what his half-brother, Heza Dasha Fire, did when he won this race in 2014."
Sired by FDD Dynasty and out of the great broodmare Dasha Freda, Dasha Dynasty has now finished in the money in all five of his starts for owners Robyn Gordon, Juan Moya and S-Quarter K LLC.
Dunn Ranch and trainer Monty Arrossa will have a triple threat of runners in the Golden State Million final. The homebred Hallelujah Nights ran in the Ed Burke Million final before finishing third in the All American Juvenile Stakes. He's by Pyc Paint Your Wagon out of the Tres Sea.
Dunn Ranch and Arrossa will also be represented by the well-bred colt In Hott Pursuit, who was a $200,000 purchase at the Ruidoso Select Yearling Sale. The son of One Famous Eagle and Pandorum, In Hott Pursuit is a full brother to the millionaire champion Hotstepper, who won the All American Derby and Texas Classic Derby in 2018.
Dunn Ranch and Arrossa's talented trident will also feature the homebred Whizkey Glasses, who won the 10th trial of the night while facing the aforementioned Dasha Dynasty. The winner of the Easy Jet Stakes, Whizkey Glasses was sired by FDD Dynasty and is out of the multiple graded futurity finalist Marys Southernpolicy.
The Golden State Million field will be completed by Fortunate Corona, Minecraft and Significant Dynasty. A colt by Corona Cartel out of the 2012 Los Alamitos Million Futurity winner Matabari, Fortunate Corona posted the fourth fastest time with Armando Viramontes up for his father, Rodolfo Viramontes.
Trainer Valentin Zamudio also qualified Steve Burns and Empire Racing's Minecraft, who was piloted to victory by Sergio Becerra, Jr. A winner of 265 Quarter Horse races in his career, Becerra, Jr.'s top victories include the Rainbow Derby with Eagle Coast and the Ruidoso Futurity with Cyber Monday. Minecraft joins Golden Boi and Just A Kool Boy as son of Favorite Cartel in this year's Golden State Million.
Trainer Chris O'Dell and jockey Eduardo Nicasio, who teamed up to win the Golden State Million with Runforyourlife in 2019, qualified with La Feliz Montana Ranch LLC's homebred Significant Dynasty. A gelding by FDD Dynasty, Significant Dynasty raced in the Rainbow Futurity earlier this year.
Similarly to Favorite Cartel, FDD Dynasty also had three of his sons qualify to the Golden State Million. In addition to Significant Dynasty, FDD Dynasty will also be represented by Whizkey Glasses and Dasha Dynasty.
Golden Boi will lead the field of 10 that will get together in the Golden State Million final on Halloween Night, Sunday, October 31. For a complete list of Golden State Million Futurity(G1) finalists, with times, sires, dams, owners, breeders, trainers and jockeys CLICK HERE.
In Hott Pursuit won a shake over La Blue Amore after the two had tied for the 10th fastest qualifying time.
* * * * * * * * * * * * * *
For more info, please contact larace@losalamitos.com. Follow us on Twitter or Instagram at @losalracing or visit us online at www.losalamitos.com.