RACING THIS WEEK
FEATURES
SERVICES
Pattys Saint, under jockey Jesus Virgen, winning the Grade 1 $125,000 Mildred N. Vessels Memorial Handicap on Sunday at Los Alamitos Race Course Sunday.

© Amber Mendez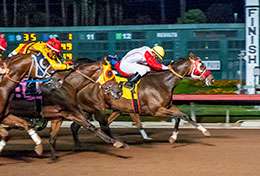 Pattys Saint Wins The Grade 1 Mildred Vessels In First Start At Los Alamitos
LOS ALAMITOS, CA—SEPTEMBER 18, 2022—Robert Harrison's Pattys Saint, a 4-year-old mare with a winning habit, scored a major victory in her first start Los Alamitos Race Course after outdueling local stakes winner Leah Carroll while holding off the late charge from Ed Allred's Nymphette to win the Grade 1, $125,000 Mildred Vessels Memorial Handicap on Sunday night at Los Alamitos.
With her regular rider Jesus Virgen up for trainer Heath Hillman, Pattys Saint broke sharply from post number four, fought gamely with Leah Carroll during the first half of the race, took the lead at the midway point and had enough left in the tank to beat Allred's rising star, Nymphette, by a half-length to win the meet's richest race for distaffers.
Covering the 400-yard distance in :19.892, Pattys Saint posted her 13th career win in 18 starts while earning $62,500 in the Mildred Vessels. Sired by Jess Got Easier, a stakes placed son of Feature Mr Jess, Pattys Saint took her career bankroll to $187,581.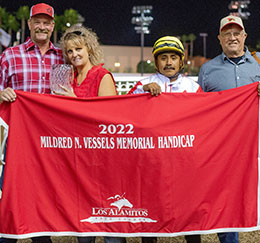 Heath and Trudy Hillman and jockey Jesus Virgen accept the Mildred N. Vessels Memorial Hanidcap trophy at Los Alamitos Race Course.
© William Zuazo
Pattys Saint has been a winning machine over the past two years for Harrison, who also bred the mare. During that span, Pattys Saint has won 10 of 12 starts, including the AQHA Distaff Challenge Championship at The Downs at Albuquerque last year.
"Her getting away is her strong point," Hillman said. "She does like the distance as well, but she did good."
In winning the Mildred Vessels, Pattys Saint defeated a field that also included Kiss Thru Fire, the AQHA champion aged mare last year, and Reason To Fly MV, the winner of last year's Mildred Vessels. All 10 distaffers in this outstanding race had either won a major stake or raced in a Grade 1 stakes event since last year. Pattys Saint has now won four races in a row, all of them with Virgen in the irons.
"My first time being here, and it was a pleasure," Virgen said. "My filly, I was a little nervous with her because she started looking around a little bit, but as soon as we go into the gate and loaded in the gate, she got ready and just took off. She stayed with me for half (the race) and after that I started hustling Pattys Saint and she just started walking away from her. She's amazing."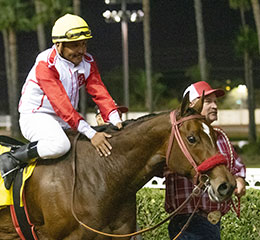 Heath and Hillman and jockey Jesus Virgen walk into the Los Alamitos winner's circle.
© William Zuazo
Hillman lives in Preston, Idaho and training horses is not his main source of income.
"I have garage door business in Preston," he said. "I can't stay here and just chill. I can't do that. I have a business and if I'm not installing garage doors, I am not making any money. I love the horses, but it's not what feeds my family. With my garage business, it's me and another guy, so when I'm not there nothing happens. I'm driving home tomorrow to go to work on Tuesday. We do new repairs; we install new doors. The building industry is going crazy right now. We have a lot of Californians in Idaho right now."
Business is good for Hillman, both on the racetrack and off it. With this win, Pattys Saint also earned a longer stay at Los Alamitos. While Hillman is back in Idaho, trainer Monty Arrossa will take over the training of Pattys Saint.
"She loves me," Hillman said of Pattys Saint. "I don't have a groom at home. I am the groom, I am the trainer, I am the gallop boy. I am everything. We have a very strong connection me and her. My wife, Trudy, was asking me 'are you really going to be able to leave her here for that long without you?' That'll be the toughest part.
"I keep her at home. We have a 10-acres parcel. I have a little training track; I have an arena. My kids do a lot roping, cowboy stuff, calf roping, team roping, all that stuff."
At Los Alamitos, Pattys Saint has had the opportunity to train in a completely different atmosphere for her.
"She doesn't get this at home," said Hillman while pointing to the track. "At home, we gallop her where every lap is a quarter mile. I gallop her after work. Everything is after work. I take care of her in the morning before I go to work. Then I try to be done by 3:30-4 pm every night and take care of her. These guys here (at Los Alamitos) start way early and I don't start way early. I show up and Monty (Arrossa) is half done galloping everything he's go. I roll in, give her some grain, and let her eat and relax. Then I'll bring her out, track her after second break and if I leave her, I know her pattern is going to change.
"She's made me a little nervous because usually she's a little more excitable and wanting to do something. She's been happy to be here. She was a little strong the first day we galloped. When we went to Albuquerque, she had never galloped on a big track. The first four days there, she was like 'are we're going to race?' Where we are from, you don't go to the track unless you race, so that was a (transition) for her. The first day she was on the track here, she was a little strong. After that she was nice and calm."
Pattys Saint also gave her owner and breeder an early birthday present. Enjoying retirement in Pocatello, Idaho, Harrison will turn 91 on Tuesday.
"Twenty-three years ago, I lived in Pocatello at the time," Hillman added. "I had a friend that I was helping with his horses when (Harrison) brought a horse to the track, looking for someone to train him. My buddy told him that his barn was full, but said that this kid here, he's getting into it and helps me with mine. Bob gave me a shot. We won three with that horse that summer and me and him have been connected ever since."
Ridden by Henry Reynoso Lopez for trainer James Glenn Jr., the sophomore filly Nymphette ran a tremendous race to finish second against some of the toughest mares in the nation. A Walk Thru Fire full sister to the likes of Governor's Cup Futurity winner Frivolous and All American Futurity runner-up Sicario V, Nymphette was fifth during the early going, but came flying in the final 100 yards to finish second. In only her third career start, Nymphette earned $21,250 for her runner-up effort.
Paul Jones' Hes Relentless filly Leah Carroll had the lead at the midway point and was game the entire way while running third. With Jairo Rangel up, Leah Carroll earned $12,500 for finishing third.
Gentry Farms' Kiss Thru Fire, who trailed the entire field at the start, came on strong in the second half of the race to finish fourth.
La Estrella Corona, College Scandal, All Pointz Bulletin, Famous Shining Star, Rite On Time and Reason To Fly MV completed the field.
* * * * * * * * * * * * * *
For more info, please contact larace@losalamitos.com. Follow us on Twitter or Instagram at @losalracing or visit us online at losalamitos.com.