RACING THIS WEEK
FEATURES
SERVICES
Golden State Million Futurity(G1) winner Cyber Attack, under jockey Eduardo Nicasio, setting the fastest time in the Los Alamitos Two Million Futurity(G1) trials on Sunday night.

© Amber Mendez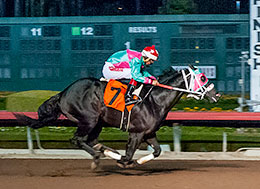 Fastest Qualifier Cyber Attack, AA Fut. Winner Hes Judgeandjury Shine In Los Al Two Million Trials
LOS ALAMITOS, CA—NOVEMBER 20, 2022–Rosenthal Ranch's Cyber Attack delivered another dominant trial performance, this time in the 11th of 12 trials to California's richest horse race, the Grade 1, $1,884,225 Los Alamitos Two Million Futurity, in route to posting the fastest qualifying time here on Sunday night.
Ridden by Eduardo Nicasio for trainer Chris O'Dell, Cyber Attack won his 400-yard trial by two lengths while covering the distance in :19.581, an impressive clocking that's about 1 ½ lengths faster than the time posted by second fastest qualifier Ray Yeigh.
Cyber Attack, a gelding by Favorite Cartel out of AQHA Dam of Distinction Remember Me Rose, will now look to duplicate his older brother Bomb Cyclone's bigtime win the Los Alamitos Two Million last year for these same connections.
Cyber Attack had previously posted the fastest time to the Grade 1 Golden State Million Futurity, a race in which he finished second by a nose on October 30. Now a winner in three of four starts at Los Alamitos, Cyber Attack will join the likes of Grade 1 All American Futurity winner Hes Judgeandjury and Golden State Million fourth place finisher Jeriko as bright, young stars that will get together in the Two Million final on Sunday, December 11.
A total of 101 juveniles competed during the 12 trials, with the 10 fastest 2-year-olds advancing to the rich California event.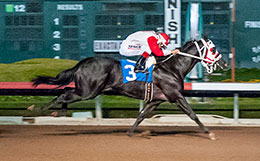 Ray Yeigh, under jockey Francisco Calderon, posting the second fastest Los Al Million trial time on Sunday night.
© Amber Mendez
The presence of Cyber Attack and Ray Yeigh at the top of the list gave O'Dell the two fastest qualifiers to the Two Million final.
With Cyber Attack this was his third win in six starts, while Kevin Reed, Manuel Rodriguez, and Shaun Hubbard's Ray Yeigh was picking up his third win in five starts.
Francisco Calderon piloted Ray Yeight, a gelding by Favorite Cartel out of Tac Out, who was purchased for $310,000 at the Ruidoso Select Yearling Sale last year. The top two qualifiers were both bred by Dr. Steve Burns.
"First thing Nicasio told me (after the race) is that (Cyber Attack) is starting to learn how to break," O'Dell said. "It's always hard to qualify and now we to freshen him up, if there's such a thing, between now and the final. He's had three hard races now. Everybody else is kind of on the same boat. What's a little racehorse he is. He's tough. We're going to do a lot of freshening up after the Two Million. We'll have him ready, and that family once again keeps shining for us. They're fantastic. It's a good feeling. We'll have two in this final and two in the Champion of Champions. I'm living the dream."
Jeriko (#6) battles fellow qualifier Required First (inside) to get the third fastest time in the fifth trial on Sunday.
© Amber Mendez
Ray Yeigh's win came in the seventh trial of the night, a division that also produced 10th fastest qualifier Famous Miss Kitty.
"In the last set of trials, (Ray Yeigh) kind of stumbled out of there," O'Dell added. "Tonight, he got away clean. We've been high on this horse because he worked good at Ruidoso. In his schooling race, he looked like the best horse in the country. We are glad to see him perform because he was having trouble running from point A to point B fast enough. He would run sections of the race fast but not the whole race. He's starting to come together, and I think he'll be a heck of a 3-year-old. For right now, we want him to be a heck of a 2-year-old.
"He is a beautiful colt," O'Dell added. "We had him as the black stallion for while and then we (gelded) him to see if we could get him to be more attentive and help him run. One set of trials, he reared up and got his legs up and over the front on top of the gate. He never pays attention to what he's doing. We put a flipping halter on him and tried to straighten him out. He always trains good. He eats good. He does everything well all time except he just didn't run like he should. Tonight, we saw a little something. I'm hoping the light came on. Nicasio fits. Calderon fits him. He's won two on him. Nicasio has won on him. We are just trying to surround ourselves with good horses and good riders."
O'Dell had nothing but great things to say about the wonderful autumn weather at Los Alamitos during the entire night of trials.
Hay Shaker pulls away from fellow qualifier Mahomes Magic Sunday night at Los Alamitos Race Course.
© Amber Mendez
"What a great place and good conditions to run," O'Dell said. "The weather has been the same from the first race to the last race. It's been a beautiful night of racing at Los Alamitos."
It was a night full of beautiful horses and terrific racing effort. The third fastest qualifier was Bobby Cox's Jeriko, who did not have a postcard journey during the fifth trial, but his racing ability helped him overcome a troubled start. Rodrigo Sigala Vallejo piloted Jeriko to a ¾ length win in his trial for trainer Heath Taylor.
"The horse has tremendous speed," Taylor said. "He's a really fast horse. He might be as equally fast as anyone here. He has to run the first 100 yards. You know, that horse is really gentle and he's smart in the gate. He never, never moves. I got the horse from Juan Vazquez and he's had success with the horse, so I didn't want to change equipment. Here, for the night racing, I'm thinking that maybe the horse doesn't need the flipping halter. It seems like the horses is so docile and so gentle that he's almost confused in the gate and he's standing tied. He's capable of breaking fast. He just hasn't done it. If you watch the race replay, obviously hats off to the top three finishers (in the Golden State Million Futurity). They just beat him, but in the one-hole in the Golden State, he was just beat so bad at the 220 mark. He was last and he ran fourth. He had a huge gallop out. He's very talented, but he'll have to run an entire 400. He can't run the last 395 against these kinds of horses. Rodrigo told me that if he would have left clean tonight that he could have won by the width of the racetrack. He said he could have won by 30 yards if he would have left good. 'If, would have, could have, should have,' has won a lot of races too."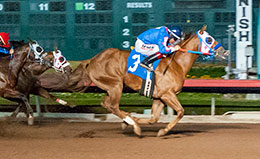 All American Futurity(G1) winners Hes Judgeandjury, under jockey Rodrigo Vallejo, won the fourth trial by one-length.
© Amber Mendez
Taylor and Sigala Vallejo also teamed up with Hes Judgeandjury to win the fourth trial and helping the son of Hes Relentess make the final of his fourth million-dollar race of the year. The Oklahoma home-bred also qualified to the Grade 1 Ruidoso Futurity and Grade 1 Rainbow Futurity this summer in New Mexico.
"He's kind of like Empressum," said Taylor, as he compared Hes Judgeandjury to old half-brother Empressum. "The longer the race, the better (they) get. Hes Judgeanjury is a strong finisher. I thought he stood great first time at night. He had never been out of the stall past dark other than the night we worked him. I thought he left well. He kind of missed the ground and got a bump. It seemed like it took a little bit to get started, a little bit to get started. He ran a good clean race from there and got stronger the longer the race went. He should improve in his second race. So far so good. He came to the paddock very confident and very relaxed. Didn't seemed to be bothered at all. Warming up it seemed like he had been here forever. That night experience made a bit of difference."
Hes Judgeandjury will now look to make Quarter Horse racing history, as he'll attempt to become the first to win both the All American Futurity and the Los Alamitos Two Million Futurity.
J. Francisco Diaz's Good Wagon SA finished with the fourth fastest qualifying after running second to Cyber Attack. Trained by Lindolfo Diaz and ridden by Jesus Rios Ayala, Good Wagon SA has finished in the top two in all four of his career starts. Sired by Two Million Futurity winner Good Reason SA, Good Wagon SA was bred by Randy and Stacy Hill.
One of the top stories of the meet has been Hay Shaker, the winner of the Los Alamitos Claiming Futurity. Claimed for $12,500 after winning that race, Hay Shake qualified to the Golden State Million Futurity last month. After running a game sixth in the Golden State Million final, Hay Shaker came with a winning trial effort in the 9th division of Two Million. It was Jaime Gomez who claimed Hay Shaker from the Los Alamitos Claiming Futurity. Gomez sold the Favorite Cartel gelding in a private transaction to Alfredo Alonzo, Luciano Martinez and Roberto Martinez.
"We were able to make some connections and get the horse," Roberto Martinez said. "Alfredo did all the work on getting the horse. We thought he was worthwhile, and we were fortunate to get him."
"We were happy to get the win on my birthdate week," Alonzo said. "We are very thankful for the opportunity and I'm thankful to do it with one of my best friends in Bobby."
"We're like brothers," Martinez added. "Alfredo was a friend of my dad, and I was able to get to know him. He loved the horses and he's very passionate about the horses. He deserves this. I've been a groom, jockey, gallop boy. I've been in the business a long time. We'd rather be lucky than good."
Eleazar Gonzalez's Mahomes Magic was second to Hay Shaker in the trials, but his time was good enough to earn him a spot in the lucrative final. Trained by Sergio Morfin, Mahomes Magic was a $20,000 claim earlier this year.
The list of qualifiers also featured a trio of juveniles with stakes racing experience. P & J Racing Ltd.'s AJ Born Runnin entered these trials after running the Golden State Million final.
The Apollitical Jess filly will give trainer Jaime Gomez with a pair of qualifiers, as he also still trains Hay Shaker.
George and Ruben Villalobos' Required First ran second to Jeriko in the fifth heat. The First Down Dash colt also finished second in the Governor's Cup Futurity in late July. Jose Flores trains Required First.
Flores also trains Johnny Trotter's Famous Miss Kitty, who was second in the John Deere California Juvenile Challenge. Famous Miss Kitty will be purring at the opportunity to give Trotter his second win the Two Million.
The top owner and breeder first won this race with the great One Famous Eagle, an AQHA champion colt and a half-brother to Famous Miss Kitty.

CLICK HERE for a complete list of qualifiers with times, sires, dams, owners, breeders, trainers and jockeys to the Los Alamitos Two Million Futurity:
* * * * * * * * * * * * * *
For more info, please contact larace@losalamitos.com. Follow us on Twitter or Instagram at @losalracing or visit us online at losalamitos.com.