RACING THIS WEEK
FEATURES
SERVICES
The All American Ruidoso Horse Sales Company keeps its original schedule of horse sales on two separate weekends,

© Ruidoso Downs Race Track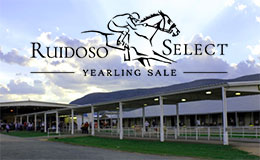 All American Ruidoso Horse Sales Company Keeps Original Schedule Of Horse Sales On Separate Weekends
RUIDOSO DOWNS, NM—MARCH 9, 2021—
The All American Ruidoso Horse Sales, LLC, announced today that it would move its 2021 New Mexico-Bred Quarter Horse and Thoroughbred Yearling Sales and the Select Foals-in-Utero session to August 20-21 to coincide with All American trials weekend.
The weekend race card is historically one of the most exciting weekends of the year as the sport's fastest Quarter Horses compete for spots in the finals of the $3 million All American Futurity, the All American Derby and the All American Oaks. The sale will immediately follow Friday and Saturday's racing program.
The famed Ruidoso Select Yearling Sale of American Quarter Horse foals of 2020 will be held as it usually is immediately following the races on September 3, 4, and 5. The 2020 Ruidoso Select Yearling Sale saw 29 yearlings sell for $100,000 or more including four that sold for $215,000 or more. The average yearling price at last year's sale was a history-making $45,920.
The Select Yearling Sale and New Mexico-Bred Sale have long been a source of many stakes winners including recent New Mexico-breds Stormin The Jewels ($472,000), Mister Riptide ($748,000), and Select Sale graduates Flash And Roll ($1,710,00), Rustys Miracle ($762,000), Hotsempting ($662,000), Cyber Monday ($516,000) and Dexxter ($492,000). Recent years have seen 17 different millionaires purchased through the Select Sale.
Entry forms for both sales will be available at RaceRuidoso.com/horse-sales in April. The entry deadline for the New Mexico-Bred Yearling Sale is May 1 with Ruidoso Select Yearling Sale entries due May 15.
For more information, please contact Ruidoso Horse Sales by phone 575-378-4474, by fax 575- 378-4788 or by email dreed@raceruidoso.com or wwiggins@raceruidoso.com.