RACING THIS WEEK
FEATURES
SERVICES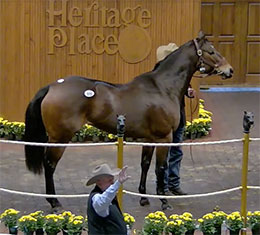 OKLAHOMA CITY, OK–NOVEMBER 4, 2023–Multiple graded stakes winner Woodys Copy Cat topped the 46th annual Heritage Place Fall Mixed Sale in its final session on Saturday.
Selling as Hip 570 from the Cornerstone Stables, Agent consignment, Hip 750 Woodys Copy Cat will return to farm she was born on in New Mexico after her breeder, ...
---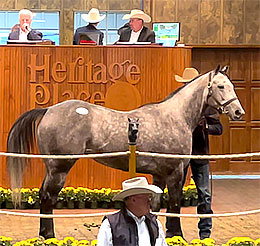 OKLAHOMA CITY, OK–NOVEMBER 3, 2023–Leading breeder Bobby D. Cox purchased the Day 2 sale-topper, Hip 384 Carters Law, at the 46th annual Heritage Place Fall Mixed Sale on Friday for $215,000.
"Day 2 results concluded the average price on horses sold today of $15,881 is down from last year's second day average of $17,942. Eighty-seven ...
---
ADVERTISEMENT
---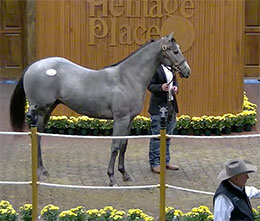 OKLAHOMA CITY, OK–NOVEMBER 2, 2023–Heritage Place kicked off its 46th annual Fall Mixed Sale today in Oklahoma City with two sessions. Session one featured Quarter Horse and Paint yearlings and session two was for Thoroughbred yearlings.
Mindy Holloway paid $100,000 for today's sale-topper, Hip 207 Blue Sumoke from the consignment of ...
---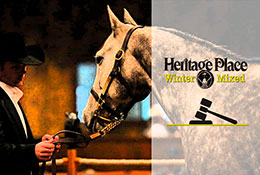 Open Letter to the Industry
OKLAHOMA CITY, OK–OCTOBER 4, 2024–Heritage Place is pleased to announce the 46th Annual Winter Mixed Sale is open and accepting consignments.
The sale is scheduled for January 18, 19 & 20, 2024. ...
---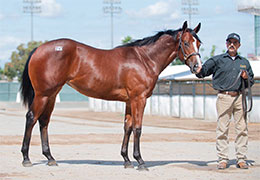 LOS ALAMITOS RACE COURSE, CYPRESS, CA–OCTOBER 1, 2023–The legacy of the sensational Favorite Cartel and Remember Me Rose cross continues as Hip 210 Rose Beaukay, a filly who is a full sibling to AQHA champion colt Cyber Attack and Grade 1 stakes winners Bomb Cyclone, Powerful Favorite, Runforyourlife, and Cyber ...
---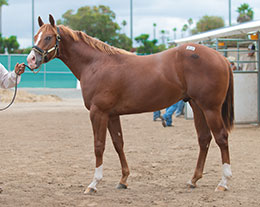 LOS ALAMITOS RACE COURSE, CYPRESS, CA—SEPTEMBER 30, 2030–Felix A. Gonzalez purchased a Favorite Cartel colt out of the Walk Thru Fire broodmare Bartiromo for $250,000 to top the opening session of the Los Alamitos Equine Sale here on Saturday afternoon.
Consigned by ...
---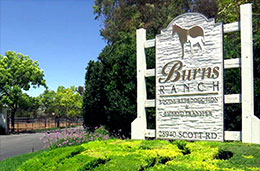 LOS ALAMITOS, CA–SEPTEMBER 28, 2023–
Dr. Steve Burns and his wife Jo Rae operate the highly successful Burns Ranch in Menifee, California, nationally regarded as one of the premier Quarter Horse stallion stations and breeding farms in Quarter Horse racing. ...
---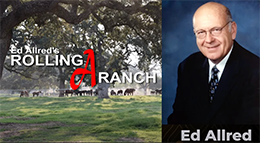 LOS ALAMITOS, CA–SEPTEMBER 28, 2023–
A video preview of Ed Allred's consignment for the 2023 Los Alamitos Equine Sale is now available for viewing and it highlights many of the top colts and fillies that will represent his Rolling A Ranch at the sale on September 30 and October 1.
The video ...
---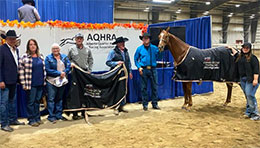 RED DEER, ALB–SEPTEMBER 25, 2023–The 28th Annual Canada Quarter Horse Cup Sale enjoyed across the board increases in gross, average and median. The annual event was held Friday, September 28 at the Westerner Park in Reed Deer, Alberta.
During Friday's sale AQHRA sold a total of 14 of the 26 yearlings through the ring for gross receipts ...
---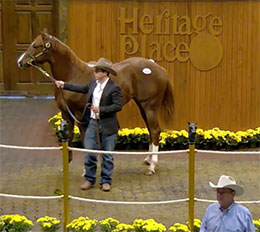 OKLAHOMA CITY, OK–SEPTEMBER 23, 2023–The final session of the September Yearling Sale at Heritage Place concluded today (Sept. 23) with four yearlings bringing $300,000 or more, bookending another record breaking event.
"The 2023 Quarter Horse Yearling Sale closed with a record average sale price of $40,640, up 5% from 2022, 88% of the ...
---
OKLAHOMA CITY, OK–SEPTEMBER 22, 2023–Triple Five purchased a Flying Cowboy 123 colt for $450,000 to lead the second session of the Heritage Place September Yearling Sale on the next-to-the last day of the auction. Through two-days the sale is showing increases over last year's numbers.
"The ...
---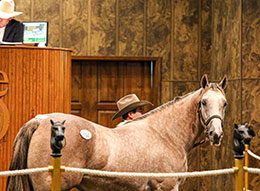 OKLAHOMA CITY, OK–SEPETMBER 21, 2023–Leading sire Apollitical Jess sired the top three sale toppers in the opening session of the 2023 Heritage Place Yearling Sale on Thursday in Oklahoma City.
"We had an outstanding sale to kick off with Day 1. The average on horses sold was $35.488 and ...
---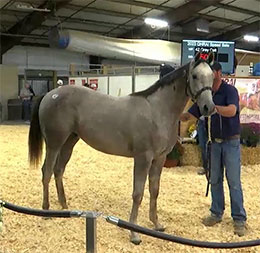 SHELBYVILLE, IN–SEPTEMBER 19, 2023–The median price for horses rose 32% despite the average being down at the just concluded QHRA Speed Sale held Saturday, September 16 at the Horseshoe Indianapolis in Shelbyville.
Almost half as many horses were offered this year with the QHRAI reporting gross receipts of $174,300 on the 20 horses ...
---
Recent Sales Results
| | | | | | |
| --- | --- | --- | --- | --- | --- |
| 2023 | AQHRAYM | 26 | 14 | $192,300 | $13,736 |
| 2023 | HPFMIXED | 819 | 588 | $9,510,500 | $16,174 |
| 2023 | HPMWO | 12 | 10 | $418,600 | $41,860 |
| 2023 | HPWMIXED | 790 | 705 | $15,680,600 | $22,242 |
| 2023 | HPYEARLING | 756 | 665 | $27,000,400 | $40,602 |
| 2023 | LAEMIXED | 217 | 168 | $5,710,100 | $33,989 |
| 2023 | LQHBAY | 537 | 435 | $7,734,600 | $17,781 |
| 2023 | QHRAISS | 34 | 20 | $174,300 | $8,715 |
| 2023 | RUINMY | 158 | 148 | $4,238,600 | $28,639 |
| 2023 | RUIY | 406 | 344 | $27,429,000 | $79,735 |
| 2023 | TQHAY | 383 | 267 | $5,926,700 | $22,197 |
| 2022 | AQHRAYM | 23 | 13 | $92,900 | $7,146 |
| 2022 | HPEMB | 35 | 25 | $490,000 | $19,600 |
| 2022 | HPFMIXED | 733 | 649 | $10,673,800 | $16,447 |
| 2022 | HPWMIXED | 790 | 694 | $14,768,300 | $21,280 |
| 2022 | HPYEARLING | 647 | 584 | $22,619,200 | $38,732 |
| 2022 | LAEMIXED | 225 | 182 | $6,909,700 | $37,965 |
| 2022 | LQHBAY | 513 | 430 | $8,212,500 | $19,099 |
| 2022 | QHRAISS | 73 | 22 | $242,800 | $11,036 |
| 2022 | RUINMY | 156 | 137 | $3,537,100 | $25,818 |
| 2022 | RUIY | 409 | 360 | $26,323,500 | $73,121 |
| 2022 | TQHAY | 343 | 251 | $6,004,300 | $23,922 |