RACING THIS WEEK
FEATURES
SERVICES
Consignments for the 2021 Heritage Place Yearling Sale are due Friday, June 14.

© Plugged In Equine Marketing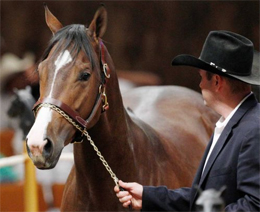 Heritage Place Quarter Horse Yearling Sale Consignment Forms Available
OKLAHOMA CITY, OK—MAY 22, 2020—
Consignment forms to the 43rd Annual Heritage Place Quarter Horse Yearling Sale are now available. The two-day sale will be conducted September 24th and 25th in Oklahoma City. .
Heritage Place will offer two great opportunities to sell "Yearling Race Prospects" in 2021.
The two-day September Yearling Sale will be limited no more than 650 head to allow all horses to be stalled inside and highlight the finest race prospects offered.
CLICK HERE to download a September Yearling Sale consignment form.
Consignment forms for the September Yearling Sale are due June 14th. Consignment fees are $650, ($750 if withheld from sale proceeds) and a late fee (after deadline) of $100.
Additional yearlings will be featured in the "yearling session" of the Heritage Place Fall Mixed Sale to be held November 5th and 6th.
Again, all horses consigned will be stalled inside the main barn at Heritage Place. The Fall Mixed Sale will kick off with a Yearling session featuring Quarter Horse, Paint, Appaloosa and Thoroughbred race prospects, followed by a mixed session to complete the sale.
Consignment contracts will be available on the Heritage Place website for the Fall Mixed Sale and the 2022 Winter Mixed Sale soon.
"We are committed to offer the best place in the world to sell and buy horses," Heritage Place General Manager Spence Kidney said in a letter to consignors this week.
For additional information visit the sale company's website at heritageplace.com or call 405.682.4551.