RACING THIS WEEK
FEATURES
SERVICES
The 2021 TQHA Yearling Sale will be conducted Friday & Saturday – July 23 & 24 in the Exposition Hall at The Freeman in San Antonio, Texas.

© TQHA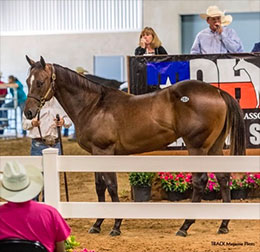 TQHA Yearling Sale Dates Move To July 23-24
ELGIN, TX—MAY 12, 2021—
TQHA announced today they are moving their annual yearling sale up a week due to the transfer of race dates from Retama Park to Sam Houston Race Park.
The 2021 TQHA Yearling Sale will be held Friday & Saturday – July 23 & 24 in the Exposition Hall at The Freeman in San Antonio, Texas.
The racetracks are waiting on approval from the Texas Racing Commission, but the hope is Sam Houston Race Park will be dark on July 23 and 24th allowing trainers less of a hardship to travel to San Antonio for the sale.
The annual sale will kick-off at Noon (CDT) on July 23rd and 10:30 a.m. (CDT) on Saturday, July 24th.
All yearlings consigned to the sale are Accredited Texas-Bred yearlings. All Yearlings selling in the 2021sale are eligible for the 2022 $500,000-est. TQHA Sale Futurity (MUST PASS THROUGH SALE RING).
The public is invited to a "Yearling Viewing" on Friday morning, July 23rd beginning at 8:00 a.m. TRACK Magazine will host free breakfast Tacos, Bloody Mary's, etc.
For additional information visit the association's website at tqha.com or call (512) 458-5202.