RACING THIS WEEK
FEATURES
SERVICES
Hip #38 Spotlite Ta Fame commanding a remarkable purchase price of $170,000 from ASCO Equipment.

© H=> Photography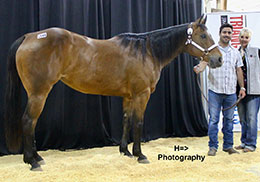 Triangle Horse Sales Breaks Record for Three Sale Seasons
OKLAHOMA CITY, OK—MAY 15 ,2021—
Triangle Horse Sales continued record-breaking averages for the third straight sale season with the close of its 41st Annual Spring Sale, held April 30 and May 1 in Oklahoma City.
The sale's average topped all previous averages at $12,975 per head on 244 catalogued horses, less withdrawals, with a 79-percent sales completion. This continues a streak of record high averages for the venue that began with the Fall 2020 Sale, which posted a $10,150 per-head average and the 2021 Winter Sale at $12,750 per head.
The highly successful barrel racing mare, Spotlite Ta Fame helped to kick off the Spring Sale with a bang as Hip No. 38, commanding a remarkable purchase price of $170,000. Spotlite Ta Fame is a is a daughter of My Stud Leroy x Lite On The Bar by Stripping On The Bar consigned by Keyla Polizello Costa, Tolar, Texas. The 2009 bay mare has accrued $40,000 in lifetime earnings, winning barrel futurities and rodeos across the country and was purchased by ASCO Equipment located in Hereford, Texas.
The high averages are indicative of the demand for quality, finished horses across the country and Triangle Sales has been a go-to sale site for buying and selling the best in a range of western disciplines since its founding in 1979. Overall, the Spring Sale sold 70 performance geldings for an average of $20,600.
The sale also elevated Triangle's Top $10,000 Club with the addition of 90 horses averaging $19,600. There were 132 horses added during the Winter Sale, for a total of 222 horses selling over $10,000 within two sales. Top averages broken down by discipline included reining horses, averaging $19,700; cutting and cow horses at $18,000; ranching and roping horses at $15,600.
Jim Ware, owner of Triangle Horse Sales says that despite the increase in averages, he feels like the market is approaching a point of healthy stability, rather than a continued climb.
"I think pricing for the Spring Sale was as good as that in January," Ware said. "We have experienced these record high averages and a strong market across the country."
"It seems like every sale we've had for a while has seen progressively higher averages than the last one, however I feel like now the market is stabilizing."
"We had a presidential address the week of the Spring Sale," Ware said. "Anytime policy changes are discussed, such as changes in tax codes, that plays a role. The overriding majority of horse owners stay aware of the political environment, and you could feel that among the buyers. But overall, it was a really good sale that drew a great crowd."
The Spring Sale was host to buyers from 25 states, and the top buyer states were Texas, Oklahoma, Iowa, Arkansas and Missouri.
Other Top 10 selling lots included Hip No. 148, Peek Twice (Peeka Pep x Miss Dualling Pep by Dual Pep), a 2010 red roan gelding, which sold for $50,000. The gelding was consigned by Turner Performance Horses, LLC, Wickenburg, Ariz., and purchased by Jeff Edwards, Bozeman, Mont. This was followed by a 2014 sorrel mare selling as Hip No. 112, Wicked Little Cat (Metallic Cat x Wicked Wanda Rey by Dual Rey), which went for $44,000 to Karen Griffin, Purcell, Okla., and was consigned by Rock Creek Cutting Horses, Weatherford, Texas.
Two sorrel geldings came in as fourth and fifth high sellers. Hip No. 63, Famous Collusion (Dash Ta Fame x Legsgonewild by Tres Seis) sold for $39, 500. The 2018 gelding was consigned by Lance Powers, Wynnewood, Okla., as agent and was purchased by Scott Duke, Vancleave, Miss. Fifth high seller, Gunna Be Hermoso (Gunnatrashya x Hermosa Dun It by Hollywood Dun It) followed closely with a purchase price of $35,000 as Hip No. 135. Gunna Be Hermoso is a 2017 gelding consigned by St-Onge Reining Horses, Gainesville, Texas, and sold to Shane Kelley, Lampasas, Texas.
The Top 10 high sellers also included:
Hip No. 210, Darlin Bobby (Bobby Starlight x Darlin Delta by Haidas Little Pep), 2014 Gray Mare, Selling for $30,000 to Flag Ranch, LLC, Purcell, Okla., consigned by Daniel Reed, Allen, Okla.
Hip No. 105, Jackies Last Dunit (Jackie Twas Dunit x Zans Last Dudette by Zans Last Dude), 2009 Dun Gelding, Selling for $27,500 to Brad West, Shawnee, Okla., consigned by Shawn Trimble, Colleyville, Kan.
Hip No. 57, Legends Whizard (Spooks Gotta Whiz x Legends Lil Squeeze by Custom Legend), 2015 Bay Gelding, Selling for $27,500 to Sam Kyle, Yukon, Okla., consigned by St-Onge Reining Horses, Gainesville, Texas
Hip No. 189, A Little Cat N Mouse (Cats Merada x HR Playin Legend by Little Lenas Legend), 2015 Sorrel Gelding, Selling for $27,200 to Bill McFarland, Rougemont, N.C., consigned by Roger Anderson, Hillsboro, N.D.
Hip No. 111, Gunnabeapopstar (ARC Gunnabeabigstar x Nu Pops Genuine MC by Im Genuinely Smart), 2016 Palomino Gelding, Selling for $27,000 to Kyle Schmitt, Holland, Iowa, consigned by Casey Ranch, Stratford, Okla.
Triangle Horse Sales features three regularly scheduled sales per year: The Winter Sale – or "January Sale," Fall Sale and Spring Sale, as well as occasional special sales. The 42nd Annual Fall Sale is scheduled for October 29 and 30, 2021, at State Fair Park in Oklahoma City. The Fall Sale will be held in conjunction with the American Quarter Horse Association World Show.
For more information, go to trianglehorsesales.net.