RACING THIS WEEK
FEATURES
SERVICES
Consignments for the 43rd Annual Heritage Place Quarter Horse Yearling Sale are due June 14th.

© Amanda Glidden / Plugged In Marketing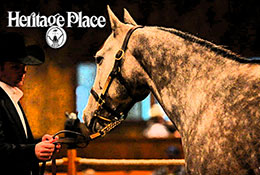 43rd Annual Heritage Place Yearling Sale Consignments Due June 14
OKLAHOMA CITY, OK—MAY 24, 2021—
Consignment forms for the 43rd Annual Heritage Place Quarter Horse Yearling Sale are due June 14th. The two-day sale will be conducted September 24th and 25th in Oklahoma City.
Consignment fees is $650 if entry is received by June 14, 2021, or $750 if entry is received after June 14, 2021 or later.
The September Yearling Sale will be limited to 650 head allowing all horses to be stalled inside and highlight the finest race prospects offered.
CLICK HERE to download a 2021 annual yearling sale consignment form.
"Heritage Place Sales Company, Inc. is committed to offering the best place in the world to SELL and BUY horses," General Manager Spence Kidney said in a press release today. "With a global presence we offer our clients the ability to sell your horse to potential customers around the world! Our national advertising campaigns along with an online presence in 2020 had a reach of over 549 million people in the United States, Mexico, Canada, Brazil, Chili, etc."
He added the Heritage Place Webcast averages a daily view of 8,000 from various countries around the world.
To bring added confidence to the marketplace Heritage Place has updated their sale conditions to include the option for buyers, at the buyer's expense, to have their purchase tested for prohibited substances as established by ARCI Model Rules of Racing.
"This should add integrity to our product and ultimately value to our consignors when buyers are able to spend their money with confidence that they can enter those horses when they are ready to begin their race careers," Kidney says. "It is our hope and belief that this adjustment will enhance the customer experience and maximize the marketing of the consignments," he concluded.
Consignors and buyers are urged to contact Heritage Place with any questions regarding this new condition of sale.
For additional information visit the company's website at heritageplace.com or call Phone (405) 682-4551.