RACING THIS WEEK
FEATURES
SERVICES
The 24th annual sale will be held July 23 and 24 in the Exposition Hall at The Freeman in San Antonio, Texas.

© Cover photo by Mark Herron / TRACK MAGAZINE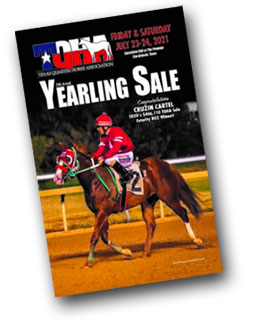 2021 TQHA Yearling Sale Catalog Available Online
ELGIN, TX—JUNE 2, 2031—
The 2021 TQHA Sale catalog is now available on line. Sale patrons can
CLICK HERE
to download an electronic copy of the catalog.
The 24th annual sale will be held July 23 and 24 in the Exposition Hall at The Freeman in San Antonio, Texas. The sale will start promptly at noon (CDT) on Friday, July 23rd and 10:30 a.m. (CDT) on Saturday, July 24th.
"The catalog is at the printer and should hit the shortly," TQHA Executive Director Val Clark said.
All horses consigned the sale are Accredited Texas-bred yearlings. All Yearlings selling in this sale (MUST PASS THROUGH SALE RING) are eligible for the 2022 TQHA Sale Futurity(RG2).
For more information including hotel options for consignors and buyers CLICK HERE.
For additional information contact Rob Werstler at 512.458-5202 or visit association website at tqha.com.