RACING THIS WEEK
FEATURES
SERVICES
Horsemen and women must be registered by July 22 to bid online at the 2021 TQHA Yearling Sale,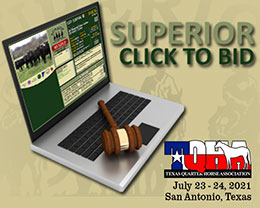 Online Bidding Available For 2021 TQHA Yearling Sale
ELGIN, TX—JULY 6, 2021—
Online Bidding will be available from Superior Livestock Productions for the upcoming TQHA Yearling Sale, July 23 and 24th in San Antonio, Texas.
However, buyers will need to get pre-approved and registered by July 22nd in order to bid online during the auction.
CLICK HERE to watch a how to register video.
Go online to superiorclicktobid.com or call 800-422-2117 to begin your registration process.
To view the online version of the 2021 TQHA Yearling Sale catalog CLICK HERE.
For additional information contact Rob Werstler at 512-458-5202 or visit association website at tqha.com.