RACING THIS WEEK
FEATURES
SERVICES
Andy Olsen paid $95,000 for Hip No. 249, Better Pepto.

© Triangle Sale Company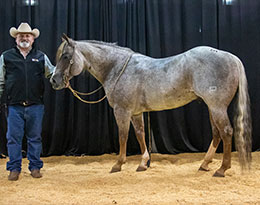 Triangle Horse Sales' 39th Winter Sale Sets a New World Record
OKLAHOMA CITY, OK—FEBRUARY 11, 2022—
Triangle Horse Sales' recent two-day Winter Sale, known as "The January Sale," opened Friday, January 28 at the State Fair Park in Oklahoma City with a morning sale preview followed by an exciting Friday evening session at 5 p.m.
The session drew a packed house and featured 80 entries, which banked a remarkable average of $31,300. This combined with Saturday sale sessions closed with a two-day total average of $18,300 on 407 catalogued horses, less withdrawals, and an 83-percent sales completion rate.
The strength of sales ran especially deep for the event, with 72-percent of the weekend's completed sales generating totals of more than $10,000, adding 232 horses to Triangle's Top $10,000 Club.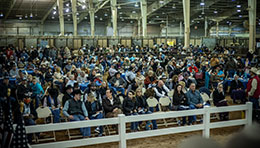 A packed house was on hand for recent Winter Sale's Friday evening session.
© Triangle Horse Sales
Since Triangle Sales implemented the Top $10,000 Club in 2015, the strong market demand has brought consistent growth to the designated group with each sale. By comparison, 132 entries brought more than $10,000 in last year's Winter Sale and a total of 375 for the 2021 three regular sales combined.
This was the 39th year for the popular "January Sale," which is historically Triangle's most anticipated sale event. This year's sale welcomed buyers from 28 states and three countries.
Cutting and cow horse-bred entries led the collective group average at $27,100, followed by seasoned geldings, which averaged $21,600 on 111 head. Reining-bred horses averaged $19,400, followed by ranching and roping horses at $17,900 and other western performance horses at $9,300.
Top Ten Sales
High seller for the event was Hip No. 249, Better Pepto (One Time Pepto x Better Sue by Bet On Me 498) for $95,000. The 6-year-old red roan stallion was consigned by Stevens Performance Horses, Thayer, MO, and sold to Andy Olsen from Hershey, NE. This sale was followed by a 2017 bay roan gelding, Hip No. 74, Whizkey Lullabye (Metallic Cat x Oaks Smart Chance by Doc's Oak) at $75,000. The gelding was consigned by Kollin VonAhn of Blanchard, OK, and purchased by CY Ranch, Lipan, TX.
Third-high seller was Hip No. 359, Mocha Light (Light N Lena x Dual Tari by Dual Pep), selling for $70,000. The 2006 chestnut mare was consigned by Trystan Crow, Dimmitt, TX, and purchased by Keith Ketcher, Stark City, MO. DJ Ventures of Whitesboro, TX, consigned the fourth high seller as Hip No. 35, Atrubluboon (Once In A Blu Boon x N Yer Wildest Dreams by Peptoboonsmal), which sold for $65,000. The 2018 blue roan colt went to Luke Yeahquo of Crescent, OK.
Fifth and sixth high sales were Hip No. 278, Hickory Holly Style (Hickory Holly Time x Genuine And Stylish by Playin Stylish) and Hip No. 40, Platinum Jac (Platinum Vintage x Joe Cat Jac by El Ricky Joe). Both entries sold for $60,000. Hickory Holly Style is a 2017 red roan gelding sold by Rob and Sue Stevenson, Mineola, IA, to Ross Falisi, Williston, FL. Platinum Jac is a 2018 buckskin gelding, consigned by Carl Knox, Sedalia, MO, also purchased by Falisi.
The seventh high sale followed closely at $59,000 by Hip No. 34, CR Get Tuff (Woody Be Tuff x ARC Catty Dual by Dual Pep). Zeb Corvin, Canyon, TX, was agent consignor for the 2017 sorrel stallion, which sold to Ty Smith, Edmond, OK. This was followed with a $57,000 purchase of Hip No. 66, Reys Delight (Dual Rey x Peppys Stylish Lena by Docs Stylish Oak), a 2014 sorrel mare, which also sold to Smith and was consigned by Atwood Quarter Horses, Inc., Kenwood, CA.
The ninth and tenth high sellers were Hip No. 19 for $52,000, Smoothtalkn Stranger (Smooth As A Cat x Peptacular by Peptoboonsmal) and Hip No. 241 for $50,000, Guys Dashing Gal (A Smooth Guy x Mulberry Moon by Royal Streakin SI 97). Smoothtalkn Stranger is a 2014 sorrel gelding consigned by W2 Horses, Pavo, GA, sold to Clyde Scott, Murchison, TX, while Guys Dashing Gal is 2012 gray mare sold by Rob and Sue Stevenson, Mineola, IA, to Steven Elliott, Newberry, FL..
Spring Sale Date
Triangle Horse Sales hosts three regular sales throughout the year. Up next is the 42nd annual Spring Sale, scheduled for April 29 & 30 at State Fair Park in Oklahoma City, OK. The entry deadline is March 16. Entry forms and additional information can be found at www.trianglehorsesales.net. The Triangle Fall Sale is slated for October 28 & 29, and will also be held at State Fair Park.