RACING THIS WEEK
FEATURES
SERVICES
Consignment forms are due Monday, May 2 for the 2022 TQHA Yearling Sale.

© Courtesy TQHA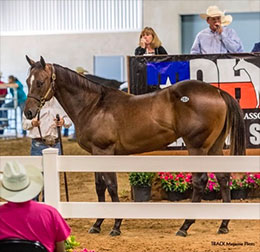 Consignment Forms Due May 2 For 2022 TQHA Yearling Sale
ELGIN, TX—APRIL 12, 2022—Consignment forms for the 2022 TQHA Yearling Sale are due in the TQHA office by Monday, May 2nd. The annual yearling sale, set July 29-30, will again be held at The Exposition Hall at The Freeman in San Antonio, Texas.
In 2021, TQHA hosted their most successful yearling sale in history with a $23,684 average and $18,000 median on the 185 horses marked sold.
The sale is for Texas Accredited (ATB) yearlings and all yearlings selling (must pass through the sales ring) become eligible to participate in the 2023 $500,000-est. TQHA Sale Futurity(RG3) at Retama Park.

CLICK HERE to download a 2022 TQHA consignment form.
All consignments for the 2022 TQHA Yearling Sale must include:
> A completed/signed Consignment Contract at TQHA by May 1, 2021
> Must be Accredited Texas-Bred Quarter Horses (forms and rules)
> Must be parentage verified thru AQHA
> Include original AQHA Registration Certificate (click here to download)
> Include completed/signed AQHA Transfer Report
> Include $650 consignment fee (per horse), unless otherwise approved
For additional information visit the association's website at tqha.com or call 512-458-5202.