RACING THIS WEEK
FEATURES
SERVICES
Consignments for the 44th annual Heritage Place Yearling Sale are due Tuesday, June 13.

© Amanda Glidden / Plugged In Marketing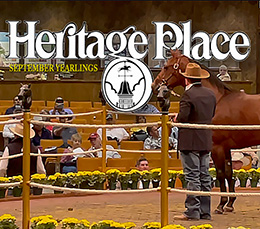 Consignment Forms Available for 44th Annual Heritage Place September Yearling Sale
OKLAHOMA CITY, OK—APRIL 28, 2022—Consignment forms for the 44th annual Heritage Place Quarter Horse Yearling Sale, scheduled September 23 thru 24, are now available. The entry deadline is Tuesday, June 13th.
The 2021 Heritage Place September Yearling Sale grossed over $21.3 million with over $33,800 per head average on 630 head sold.
Consignments received by June 13 may consign for a fee of $650. Any consignments received after June 13 will cost $750.
To download the 2022 Yearling consignment form CLICK HERE.
The upcoming Heritage Place Sales Calendar includes:
44th Annual Quarter Horse Yearling Sale
September 23 and 24, 2022
Entry Deadline – June 13, 2022
44th Annual Fall Mixed Sale
November 4 and 5, 2022
Entry Deadline – August 23, 2022
44th Annual Annual Winter Mixed Sale
January 19, 20 and 21 2023
Entry Deadline – October 24, 2022
Additional information, as well as printable sales forms for all upcoming Heritage Place's sales can found at the company's website heritageplace.com.