RACING THIS WEEK
FEATURES
SERVICES
Ross Falisi paid $100,000 for high-seller Hip No. 264 ML Rum Gunner.

© Triangle Sale Company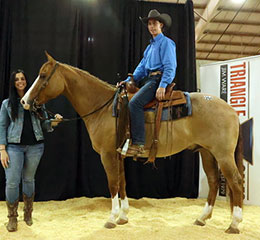 Triangle's 2022 Spring Sale Closes With Another Record-Breaking Average
OKLAHOMA CITY, OK–MAY 9, 2022–The demand for quality western performance horses continues to hold its ground—exemplified again during the recent Triangle Spring Sale in Oklahoma City, April 29—30.
The sale reached a 42-year, record-high average of $14,500 for the venue's spring event on 367 catalogued horses, less withdrawals, amid a packed house of buyers from 25 states and one foreign country. This average was up from $12, 975 last year, and the sale closed with an 86-percent sales completion.
The strong sales elevated Triangle's Top $10,000 Club with the addition of 159 horses averaging a phenomenal $21,800. This brings the Triangle Top $10,000 Club to 391 horses for two sales in 2022, compared to a total of 375 for Triangle's three annual sales in 2021. Top sale averages broken down by discipline include reining-bred horses, averaging $33,000; cutting and cow horses at $24,000; ranching and roping horses at $16,000.
Triangle Sales has been a go-to sale site for buying and selling the best in a range of western disciplines since its founding in 1979. Jim Ware, owner of Triangle Sales, says the strong economy coupled with public buying demand, has continued to drive incredible sales. He has also seen an upswing in the energy of Triangle's sales since relocating to Oklahoma City.
"It was another sale where every category of horses just sold really well," Ware said. "We are grateful that sellers continue to bring good horses—which is happening even more since we moved to Oklahoma City. It upped the level of horses and the number of buyers when we made the move to better facilities and surrounding amenities at State Fair Park.
The Top Ten sellers averaged $57,200 and were led by Hip No. 264 ML Rum Gunner (Colonels Shining Gun x ML Boonwith Freckles by Peptos Playboy), which sold for an impressive $100,000. The 2016 red dun gelding was consigned by SQ Farms as the agent, Okarche, Okla., and sold to Ross Falisi, Gainesville, FL.
Hip No. 40, Sugar Railena (Kit Kat Sugar x A Little Reylena by Dual Rey) was second-highest seller at $76,000. The 2015 sorrel mare was consigned by Lee Holsey, Huntsville, Texas, and sold to Jessy Meyer, Shields, ND. This was followed by Hip No. 22, another female with Dual Rey bloodlines, Reyluna (Metallic Cat x Reychell Rey by Dual Rey), selling for $60,000. The 2018 chestnut filly was consigned by Dawson Burns, Tarzan, Texas, and sold to Chett Hughes, Thicket, Texas.
Hip No. 276, Gotta Platinum Guns (Platinum Vintage x Wind Gotta Dancy by Spooks Gotta Gun) followed as a Top Ten seller for $55,000. The 4-year-old bay gelding was a Parker Slavin Performance Horses, Conifer, CO, consignment, which sold to Sofia Roberts, Ocala, Fla. Streakin Silkpanties (A Streak Of Fling x Famous Silk Panties by Dash Ta Fame) followed as the fifth-highest seller, bringing $52,000 as Hip No. 255. The 2016 bay roan mare was consigned by Rafael Celeste, Purcell, Okla., and sold to Lance Powers, Wynnewood, Okla., acting as agent.
Additional Top Ten sellers included:
Hip No. 43 - $50,000 Sombodys Smartallic, 2019 Sorrel Filly
Metallic Cat x Hickorysomebodysmart by Somebody Smart
Consigned by Christopher and Sunny Glass (Texas), sold to Jody Galyean (Okla.)
Hip No. 21 - $50,000 One Time Ms Sammie, 2009 Bay Roan Mare
One Time Pepto x Travlin Ms Sammie by Travalena
Consigned by Josh and Amy King (Texas), sold to Burt Bull (Texas)
Hip No. 69 - $45,000 Bobbie Boonsmal, 2005 Red Roan Mare
Peptoboonsmal x Bambi Freckles by Freckles Playboy
Consigned by Kelly Mahler (Texas), sold to Keith Ketcher (Mo.)
Hip No. 197 - $44,000 Hesa Cowboys Cream, 2017 Buckskin Gelding
Cowboys Boonshine x Blue Bells Cream by Smoke Fifty
Consigned by Kropf Performance Horses (Ark.), sold to Wayne Foster (Texas)
Hip No. 260 - $40,000 Xtra Got Outta Dodge, 2018 Palomino Gelding
Platinum Vintage x Cee N Gun Smoke by Colonels Smoking Gun
Consigned by Vandorp Inc, Agent (Texas), sold to Jon Gilbert (Ariz.)
Triangle Horse Sales hosts three annual sales per year: Winter, Spring and Fall. The 43rd annual Fall Sale is scheduled for Oct. 28—29, 2022, at Oklahoma City's State Fair Park.