RACING THIS WEEK
FEATURES
SERVICES
Jim Ware has sold Triangle Horse Sales to Western Bloodstock Ltd.

© Triangle Sale Company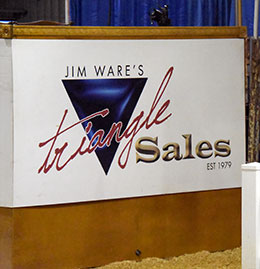 Triangle Horse Sales Changes Ownership
OKLAHOMA CITY, OK—JULY 28, 2022—Triangle Horse Sales, a premier sale company for western performance horses since 1979, has been sold by Triangle owner, Jim Ware to Western Bloodstock, Ltd., owned by Jeremy and Candace Barwick of Stephenville, Texas.
Transfer of ownership was made official July 28.
Triangle's existing sale dates will remain in place, including its spot as the featured horse sale during opening weekend of the Farnam American Quarter Horse Association World and Adequan Select World Championship Show, Oct. 28-29 in Oklahoma City. This is among one of three annual sales Triangle hosts, in addition to special sale events.
Western Bloodstock is the official sale company for the National Cutting Horse Association and the National Reined Cow Horse Association, hosting annual futurity sales for each association, as well as a Mid-Year Cutting Horse Sale, Breeders Challenge Championship Barrel Horse Sale and the National Western Stock Show Elite Horse Sale.
"I couldn't be more delighted for Jeremy to assume this role," Ware said. "The experience he has gained from selling multiple disciplines will contribute to a perfect management fit for Triangle Sales, which has become a staple in the industry for providing a diverse range of quality, performance-bred horses."
The transfer of ownership comes full circle for Ware, who along with Milt Bradford and Ben Emison, originally founded Western Bloodstock in 2000. Ware served as president of Western Bloodstock until 2012, and the Barwicks purchased the company a year later from Emison and Bradford.
Jeremy says he is impressed with the longevity of Triangle's success and looks forward to this new endeavor.
"It has been a great sale for so many years, and I have followed it since it was under the ownership of one of its original founders, Cindy Bowling," Barwick said. "I wanted to expand my business and have more sales, and I thought this would be a great addition."
Barwick's experience began at a young age, having been introduced to cutting by his grandparents. Through the years, he has been involved as a cutting horse trainer and competitor, winning well over a million dollars in earnings and a place in the NCHA Riders Hall of Fame. He and Candace also own Shadow Oak Ranch LLC and are co-owners of Brazos Valley Stallion Station LP.
Jeremy says this broad culmination of experiences has helped him make contacts in the industry and contributed to his approach with horse sales.
"I think the experience of showing and training has helped me develop a better eye for horses as sale prospects," he said.
"Also, although it's sometimes difficult, it's good to take a step back and take emotions out of the buying and selling process if you can. Years of training and competing helped me with that."
In addition to maintaining existing sale dates, he says no other big changes are on the horizon.
"I'm not one for making a lot of major changes to something that has been so successful for so many years," Barwick said.
Current sales staff will remain in place, as will the Triangle Sales' company office, which will continue to be maintained in Shawnee, Okla., where the sale was originally held for many years before relocating to Oklahoma City in 2020.
Triangle's Fall Sale is slated for October 28-29, and its Winter Sale will be held Jan. 27-28, 2023 and Spring Sale will be May 5-6, 2023.
For more information about Triangle Horse Sales, go to www.trianglesales.net. A complete line-up of Western Bloodstock Sales can be found at www.westernbloodstock.net.