RACING THIS WEEK
FEATURES
SERVICES
Juniors Quarter Horses, Inc. purchased Hip 248 Tough Brother Sunday's sale sale-topper for $207,000. Edward C. Allred was the consignor.

© Los Alamitos Equine Sale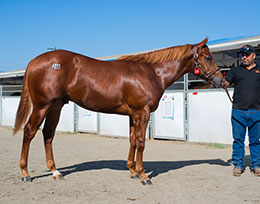 Los Alamitos Equine Sale Has A Record Sale Average For Yearlings
LOS ALAMITOS, CA—OCTOBER 2, 2022—With 16 yearlings selling for $100,000 or more and a total of 29 going for $50,000 or higher, the sale average for yearlings at the Los Alamitos Equine Sale on October 1st and 2nd set a record for the event for the second year in a row.
The 18th edition of the Los Alamitos Equine Sale enjoyed a sale average for yearlings of $37,509, an increase of 21.57% from the sale's previous record set last year. A total 164 yearlings sold for gross receipts of $6,151,400 during the two-day sale with Hip 111, Allways Remember, being the overall sale topper after being purchased by Taos River Ranch for $300,000 on Saturday.
Consigned by Burns Ranch, Allways Remember is a filly by Favorite Cartel and out of AQHA Dam of Distinction Remember Me Rose.
Taos River Ranch LLC paid $300,000 in Saturday's opening session of the Los Alamitos Equine Mixed Sale high-seller, Allways Remember.
© William Zuazo
Hip 248, Tough Brother, was the sale topper on day two after being purchased for $207,000 by Juniors Quarter Horses from Ed Allred's consignment. A colt from the red-hot cross of the stallion Favorite Cartel and the stakes winning mare Nymph, Tough Brother is a full brother to Sicario V, the 2022 All American Futurity runner-up, and Frivolous, the winner of the 2022 Governor's Cup Futurity.
Rancho El Cabresto Inc. purchased Hip 233, Remember John, for $190,000 from the Allred consignment to make the colt the third highest seller of the weekend. Remember John is by leading stallion Apollitical Jess and out of the great broodmare Dinastia Toll BRZ. Remember John, a half-brother to AQHA champion FDD Dynasty, is named in honor of the late owner/breeders John Andreini.
David Hinkins purchased Hip 57, Twice Over, for $167,000 on day one to make the colt the event's fourth highest seller. Bred by Ed Allred, Twice Over is a colt by Favorite Cartel out of the Look Her Over. He's a half-brother to 2019 AQHA World Champion He Looks Hot.
Allred had four out of the five highest sellers, as Juniors Quarter Horses, Inc. also purchased Hip 157, Ready For It, for $162,000 his outstanding consignment. The Favorite Cartel colt is out of Governor's Cup Futurity winner Up For It. Ready For It is a half-sister to 2021 Governor's Cup Futurity winner She Goes Up.
With 16 mares selling for a total of $641,000, the Los Alamitos Equine Sale also posted a smashing sale average for broodmares of $40,062, an increase of 82.1% from last year's figures.
The broodmare session featured three mares that sold for $100,000 or more, all three from the outstanding broodmare band of AQHA Hall of Fame member Abigail Kawananakoa. The trio of top selling mares was headed by AQHA champion aged mare Significant Heart (Hip 210), a Grade 1 winning mare by Corona Cartel out of Jess Significant, was purchased for $120,000 by Rancho El Cabresto. Cade Burns purchased the Walk Thru Fire mare Look At Her (Hip 73), while Dunn Ranch paid $100,000 for the Walk Thru Fire mare A Goddess Thru Fire (Hip 195).
The overall numbers for the sale featured 185 Hips sold for $6,983,400 for a strong sale average of $37,748 per head.
"We knew that we had a strong, concise catalog of outstanding Quarter Horses and we are thrilled to see how our buyers responded to the catalog," said Dino Perez, the business manager of the Pacific Coast Quarter Horse Racing Association, which manages the Los Alamitos Equine Sale. "We are so thankful for our buyers and especially grateful for our outstanding consignors. We had a record sale thanks to our buyers, breeders, and consignors."
Of the 16 yearlings that sold for at least $100,000 each, Favorite Cartel was the sire of 13 of them. Apollitical Jess had two yearlings in the sale, and both sold for over six-figures. In addition to Remember John (Hip 233),
Apollitical Jess also sired Hip 193, Jesslivingthedream, a filly who is the first foal out of 2019 Los Alamitos Two Million Futurity winner Cartel Jess Rockin. Todd and Gene Bradley purchased the filly for $120,000 from Burns Ranch, Inc. agent for Jeryl Hartley.
Foose sired the remaining yearling that sold for $100,000, Hip 183 named Karman. Out of the outstanding broodmare Babe On The Fly, Karman is a half-sister to Grade 1 winner Little Talks and Rock You.
Burns Ranch finished as the leading consignor with 60 hips selling for $2,805,000. Allred was second with 47 hips selling for $1,854,000. Abigail Kawananakoa was the third leading consignor after selling 11 hips for $641,000.
Rancho El Cabresto was the leading buyer after signing the ticket on four hips for $454,000. Jose Flores was the second leading buyer after purchasing eight hips for $407,500. Juniors Quarter Horses completed the top two after buying two hips for $369,000. They purchased the second (Hip 248 Tough Brother) and fifth (Hip 157 Ready For It) highest sellers.
For preliminary sale results, including hip-by-hip prices, CLICK HERE or visit LosAlamitosEquineSale.com.
* * * * * * * * * * * * * *
For more info, please contact larace@losalamitos.com. Follow us on Twitter or Instagram at @losalracing or visit us online at losalamitos.com.