RACING THIS WEEK
FEATURES
SERVICES
An online version of the 2022 Heritage Place Fall Mixed Sale is now available online.

© Heritage Place Sale Company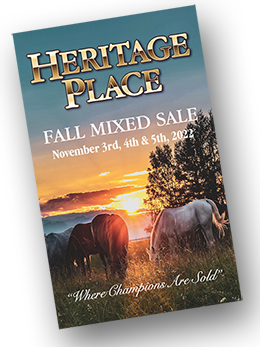 Heritage Place Fall Mixed Yearling Catalog Available Online
OKLAHOMA CITY, OK—OCTOBER 4, 2022—The online version of the upcoming 44th Annual Heritage Place Fall Mixed Sale catalog is now available.
The three-day event scheduled November 3-5, 2022, at the Heritage Place Sale's Pavilion in Oklahoma City, will feature 906 head of Quarter Horses and Thoroughbreds.
The sale will offer a Quarter Horse and Paint Yearling Session and a Thoroughbred Yearling Session on Thursday, November 3 with Hips 1 thru 332. Friday's (Nov. 4) session will be mixed hips 333 thru 619. Saturday closing session will be mixed hips 620 thru 906. The sale will start promptly at 10 a.m.(CDT) each day.
To download a copy of the online version of the 2022 fall mixed catalog pages, including sale horses, consignor, sire and dam indexes CLICKING HERE.
The complete yearling catalog, including horse, consignor, sire and dam indexes, is also available through the RGP Catalog App for iPad, iPhone, Android phones and Android tablets. To download the RGP Catalog App visit the Apple App Store or Google Play.
For complete information on the November Fall Mixed Sale CLICK HERE.
For additional sale information call the Heritage Place Sale Company at 405.682.4551 or visit heritageplace.com.