RACING THIS WEEK
FEATURES
SERVICES
The Champions of The Future Foal in Utero online sale concluded Thursday evening.

© Heritage Place Sale Company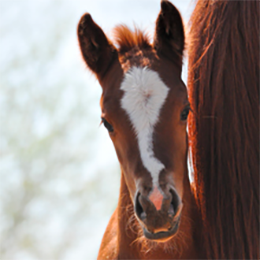 Heritage Place Inaugural Champions of the Future Foal In Utero Sale
OKLAHOMA CITY, OK–DECEMBER 16, 2022–The inaugural, Champions of The Future Foal in Utero online sale concluded yesterday evening.
As the results show we had a total of 35 offered and sold 26 for a gross of $503,600 on the lots sold. The high seller was $80,000 and an overall average of $19,369 and horses sold to buyers in 10 different states.

"We at Heritage Place are very pleased with our first online sale, and we will be exploring additional opportunities for the coming year(s)," General manager Spence Kidney said in a press release.
MJ Farms paid $80,000 for Hip 15, a foal-in-utero by leading sire Favorite Cartel from the Grade 1 winning First Down Dash mare Wave Her Down. Jeffrey Pitcher was the consignor.
El Ranch El Cabresto, Inc. was the leading buyer with three purchases totaling $95,700.
Zerlotti Genetics, Ltd. was the sale's leading consignor or agent with four head bring a gross total of $99,700.
The Champions of the Future Foal in Utero Sale was well received with over 100 approved buyers.
Heritage Place would like to wish everyone a Merry Christmas & Happy New Year!
CLICK HERE for complete results including hip-by-hip prices.