RACING THIS WEEK
FEATURES
SERVICES
Stakes winner Apolliticalfastlane (Hip #946) was Saturday's co high-seller for $150,000.

© Heritage Place Sale Company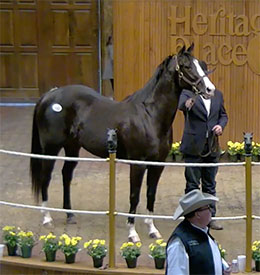 Heritage Place Closes 44th Annual Winter Mixed Sale With Across-the-Board Increases
OKLAHOMA CITY, OK–JANUARY 21, 2023–Heritage Place Sale Company's 2023 Winter Mixed Sale concluded on Saturday with across-the-board increases in gross, average and median.
"The final day average on horses sold in the closing session was $22,638, up 9% compared to last year's same day," Heritage Place General Manager Spence Kidney said late Saturday. "We want to thank all of our customers and wish everyone success on their purchases. What a great way to kick off the year!"
At the conclusion of the third and final session (Saturday) Heritage Place Sale Company reported 705 of the 798 horses passing through the ring sold for gross receipts of $15,680,600, a 6% year-on-year increase over 2022.
The average price rose 5% to $22,242 compared to $21,280 last year and the median price soared 11% to $15,000 vs. $13,500 in 2022. Eighty-nine percent of the horses offered over 3 days were marked sold.
A pair of 4-year-old filly's' purchased by Taos River Ranch, Daddys Mony and Apolliticalfasatlane, were co high-sellers on Saturday at $150,000 each.
Multiple stakes winner Daddys Mony (Hip #651) was Saturday's co high-seller at $150,000.
© Heritage Place Sale Company
Taos River Ranch paid $150,000 for Hip #651 Daddys Mony, a multiple stakes winning daughter of leading New Mexico sire Big Daddy Cartel from the Jesse James, Jr. mare Jenna James. Lazy E Ranch, Agent consigned the 4-year-old from the family of Rainbow Futurity(G1) winner Wild Six.
Taos River Ranch picked up Hip #946 Apolliticalfastlane for $150,000 from the S&E Sales Prepping, Agent consignment. The Louisiana bred daughter of leading sire Apollitical Blood is a stakes winner of $114,178. Out of multiple stakes winner Pantherinthefastlane, she is a half-sister to RG2 winner Lifeinthefastlanes.
Rancho La Cobra paid $137,000 for Saturday's third-high seller Hip# 776 Illegal Fireworks. Marty Powers, Agent for Jeff Carter and Justin Massey consigned the stakes winning daughter of champion sire First Moonflash from the Walk Thru Fire mare Illegal Fireworks. The second dam is stakes winner and multiple stakes producer Totally Illegal.
Luis Roberto Lozano was the sale's leading buyer with nine purchases totaling $527,700. Taos River Ranch had five head for $519,000 and Rancho La Cobra signed four tickets for $488,000.
Lazy E Ranch, LLC, Agent was the sale's leading consignor and agent with 83 head sold for gross receipts of $2,203,200. Bobby D. Cox had 47 head bring $1,189,700 and Dunn Ranch, Agent sold 29 head for $971,200.
Apollitical Jess was the leading sire of short-yearlings (by average with, two or more sold) with two head averaging $66,000. Corona Cartel had three for $37,333 and first sale-crop sire Uncle D was represented by four yearlings averaging $36,300.
Favorite Cartel was the sale's leading covering sire (by average with, two or more sold) with two in-foal mares for a $91,000 average. Dulce Sin Tacha had five in-foal mares average $52,800 and Gold Heart Eagle V had two in-foal mares for a $51,000 average.
For preliminary sale results, including hip-by-hip prices, CLICK HERE.
* * * * * * * * * * * * * * * *
For additional information visit the sale company website at heritagepalce.com or call (405) 682-4551.