RACING THIS WEEK
FEATURES
SERVICES
Oh Jerry holds off Sigur Rios in the $50,000 1,000-Yard Summer Championship here on Sunday at Los Alamitos Race Course.

© William Zuazo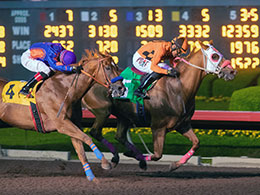 Oh Jerry, Princess Pistachio Win 1,000 Yard Championships At Los Alamitos
LOS ALAMITOS, CA—JUNE 26, 2022—William Hedrick's homebred Oh Jerry successfully defended his crown in the big money 1,000-yard races at Los Alamitos with a determined score over recent Sun Ray Park stakes winner Sigur Ros in the $50,000 1,000-Yard Summer Championship here on Sunday.
Facing a field with plenty of speed, jockey Francisco Orduña Rojas did not take waste any time sending Oh Jerry to the lead from post number five. The 7-year-old gelding dueled with Project Leader during the early stages before opening on his foes around the turn and then holding Off Sigur Ros' late challenge to win by a neck.
In the process, Oh Jerry successfully defended his crown as the top distance horse at the Orange County track, as he's now won 13 of his 16 starts around the turn. Twelve of his wins have come at the 1,000-yard distance, a remarkable record that includes three wins in 2022 and a victory in the inaugural $50,000 final last year.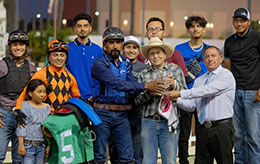 Belico Assistant race secretary Nate Estrada presents the trophy to the connections of William Hedrick owned Oh Jerry.
© William Zuazo
Oh Jerry earned $27,200 for this win to take his career earnings to $226,200. Adriana Vallejo trains the son of Oh Tanner, who covered the distance in :52.054.
"I wanted to take the lead but (Oh Jerry) broke a little slow," Orduña said. "I was able to get him to the front and once he takes the lead, he become a different horse. That's what he knows and loves, to be in front. I felt (Sigur Ros) pressure a lot. I had to use my horse early, right after we broke. Sigur Ros is a strong closer, but my horse did all he could and we won."
Jesus Uranga's Sigur Ros earned $11,100 for his game runner-up effort. Jeffrey Sengara's King Of Speed finished third with Baby Gronk, Whisky My God, Half Right and Project Leader completing the field.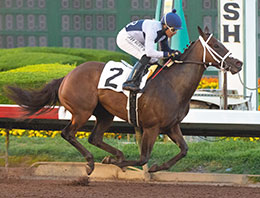 Jockey Pistacio Princess crosses the wire first in the $30,000 1,000-Yard Summer Championship for fillies and mares.
© William Zuazo
The evening also featured the $30,000 1,000-Yard Summer Championship for fillies and mares and it was Pistachio Princess who came out on top while improving her local record to three wins in as many starts. Ridden by Edgar Payeras for trainer Lorenzo Ruiz, Pistachio Princess outfinished the defending champion in this race, CA Dreamer, to win by a 1 ¼ lengths.
"It's a big relief to get this done," said Ruiz, who owns the 4-year-old Vronsky filly in partnership with Belico Racing LLC, Felipe Carlos and Jaime Valdez. "She's tiny, she's very feminine, but she's got a very big heart. I got good owners behind me. They allow me to do whatever I want to do. We can be where we are thanks to them."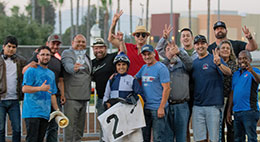 Orlando Gutierrez presents the trophy to the connections of Pistachio Princess.
© William Zuazo
"If it wasn't for (Lorenzo) this wouldn't happen," said Albert Gonzaz of Belico Racing. "Lorenzo and his crew are second to none at this place or anywhere else that I've been. Thanks to that man, we are able to be here."
A winner at Santa Anita in March of 2022, Pistachio Princess was claimed for $25,000 off of that victory. She started two more times at the Santa Anita before going to Los Alamitos to begin her quest to reach the $30,000 final. A pair of convincing victories earned her the spot in the final and from there Payeras piloted her to perfect stalking position behind CA Dreamer before striking in the stretch to record her fifth win in 20 career starts.
Bred by Old English Rancho, Pistachio Princess earned $16,350 to take her career earnings to $118,955. She covered the distance in :52.161.
With leading rider Ricardo Ramirez up, CA Dreamer earned $6,700 for running second.
Coruscation, Dannybob, Chollima and Coalinga Hills completed the field.
* * * * * * * * * * * * * *
For more info, please contact larace@losalamitos.com. Follow us on Twitter or Instagram at @losalracing or visit us online at losalamitos.com.