RACING THIS WEEK
FEATURES
SERVICES
Trump My Record will look for his third graded stakes win in Saturday's $904,631 Texas Classic Futurity (G1) at Lone Star Park.

© Coady Photography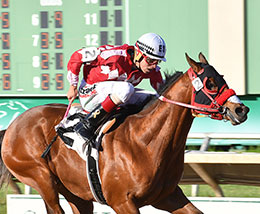 Texas Pride Solidly Behind Trump My Record
By Martha Claussen
GRAND PRAIRIE, TX—NOVEMBER 6, 2019—Breeding, quality care and soundness are essential to the development of a champion racehorse. But if you acknowledge the added ingredient of Texas pride, then Trump My Record edges even closer to capturing his third futurity of the year. He will run Saturday night at Lone Star Park as the fastest qualifier and 8-5 morning line favorite in the $904,631 Texas Classic Futurity (G1) (see related story).
Astute Purchase at the TQHA Yearling Sale
Cruz Nava and his brother-in-law Arturo Davila, III attended the 2018 TQHA Yearling Sale in San Antonio in hopes of finding a quality racehorse.
They purchased the son of first-crop sire Apollitical Blood out of the Pyc Paint Your Wagon mare Breck N Records for just $10,700. He was bred in Texas by Fulton Quien Sabe Ranches LP.
"We love Apollitical Blood," said Davila. "When we saw the colt at the TQHA Yearling Sale, we loved everything about him. He looked like he would have potential."
Nava, a resident of Lytle Texas, also owned Shesa Diamond Diva, who ran second in the 2017 LQHBA Louisiana Million, earning $386,375 in 11 starts. As much as he has enjoyed the early success of Trump My Record, he admits that he has taken some flak on the name of his talented juvenile.
"We did not name him," Nava said. "But I don't believe in changing a name of a racehorse."
Solid Success Early in the Year
Trump My Record is trained by 25-year-old Jose Sanchez, III, known as "Joe. His younger brother, Eddie, 21, capably handles the riding duties for the barn.
"We knew very quickly that he was special," said Joe. "He's smart and very calm in his stall, but when he goes to the track, he is all business."
Trump My Record made his racing debut at Harrah's Louisiana Downs. He was impressive in his schooling race on February 9, before setting the fastest qualifying time in trials for the $254,070 Harrah's Entertainment Futurity (G3). In the final on March 20, Trump My Record dug in and won, earning a 102 speed index.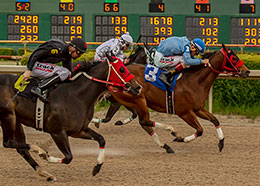 Trump My Record got his first graded stakes win in the Harrah's Entertainment Futurity(G3) at Louisiana Downs.
© Hodges Photography
It was decision-making time for the team, but they wanted to run their colt in Texas and be able to share his talent with friends and family. Nava paid the $7,500 supplement for the Sam Houston Futurity and he set the fastest time in 15 trials. The bay colt captured the final of the richest race at Sam Houston Race Park; his speed index in the final was an impressive 104.
"He's phenomenal," said an emotional Eddie Sanchez following the victory. "He broke well and in front; I could see Pa Cha Ching coming, but got to the wire in time. I'm speechless!"
After briefly considering supplementing Trump My Record to the Heritage Place Futurity (G1), the team decided to keep their runner in Texas. He made his next start at Retama Park, winning his trial to the TQHA Sale Futurity, finishing fifth in the July 27th final.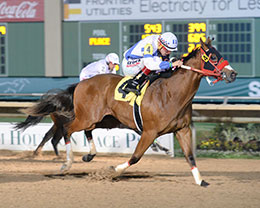 Trump My Record winning the Grade 2 Sam Houston Futurity at Sam Houston Race Park.
© Coady Photography
He returned to the winner's circle on September 21 at Lone Star Park with a trial win for the Dash for Cash Futurity and was edged by a neck by Chilitos in the October 5th final.
For those who doubted that his almost year-long campaign had taken its toll, Trump My Record quieted them two weeks later when he won his Texas Classic Futurity trial by 2 ¼ lengths, earning his career-best speed index of 106!
"That was, by far, his best race," said Eddie. "It's rare to have one like him; he just loves to run."
"He's a very sound horse," added Joe. "He comes out of each race in great shape. It incredible to have a 2-year-old who can sustain his form throughout the year. He's very special."
The Sanchez Brothers
The Sanchez brothers are pretty special as well. They have been around horses all their lives, growing up in Laredo, Texas with both their grandfather, Luis, and father, Jose showing them the ropes. Other family members with strong racing backgrounds include their uncles, trainer Angel Sanchez and former jockey, Luis Ramirez.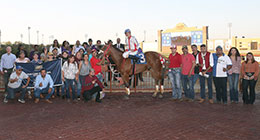 A huge contingent of supporters were on hand to celebrate Trump My Record's trial win in the Texas Classic Futurity at Lone Star Park.
© Dustin Orona Photography
Joe is a quiet, thoughtful young man with a tremendous instinct about horses, matched with a tireless work ethic. With his father serving a suspension, Joe, who had always been a central figure in the success of the Sanchez barn, thought long and hard about getting his trainer license.
"It was a big step and I was nervous about making the decision, but I am happy to be training these great horses," said Joe.
Their family ties are strong and the brothers are very close, but personality-wise, they could not be more different!
Eddie is 5'10" tall, confident with an engaging smile. He brushes off questions about his height and works with a doctor to ensure he can maintain his weight and stay healthy.
"I am tall, but can get really small on the back of a horse," he explains. "I've heard the comments about my height being an issue, but love to prove those people wrong!"
Joe lost his hand in a farm accident when he was just 3-years-old. It was a tragedy that could have scarred him more emotionally, than physically. But, with the support of his family, a very sharp mind and undeniable determination, he persevered.
"He played football and the coach told the rest of us to quit complaining and look at the mental toughness of my brother," Eddie said proudly. "I love him to death, and am very proud of his success just beginning his career as a trainer. He's learned so much from my dad and grandfather, but he's not afraid to do it his way."
Rematch with Chilitos Set for the Texas Classic Futurity Final
Trump My Record will make his tenth career start on Saturday. He's won seven races and already earned $388,591. He will break directly outside of Omar and Anna Paredes' Chilitos, who won the $344,050 Dash for Cash Futurity (G2) on October 5, denying Trump My Record.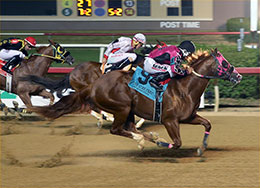 Chilitos (#9) defeated Trump My Record (#2) by a neck in the $344,050 Grade 2 Dash For Cash Futurity at Lone Star Park Saturday..
© Dustin Orona Photography
"We feel the pressure, but that's part of racing," stated Joe.
Eddie, on the other hand, was delighted with his post position
"It was my dream to draw next to Chilitos," he said. "This horse wants a fast runner next to him!"
Rob Werstler, race director for the Texas Quarter Horse Association (TQHA), acknowledges the value that a multiple-graded stakes winner brings to the annual TQHA Yearling Sale.
"Trump My Record has brought us excellent publicity all year long," said Werstler. "He is a prime example of the quality horses bred in Texas and that buyers can get a solid bang for their buck at our sale. He is also a testament to the great Joe Kirk Fulton and Fulton Quien Sabe Ranches LP."
A victory in both the Sam Houston Futurity and Texas Classic Futurity has only been notched by one previous champion: Enrique Carrion's Azoom in 1994. Nava, his wife, Veronica and three children will make the trip from San Antonio to see their champion attempt a feat that has only been accomplished once since 1994.
"He's a unique horse and we believe he is a gift from God," stated Nava.
Even if he doesn't trump his own record on Saturday night, it's been an incredible ride for his connections and the many fans of Trump My Record!
* * * * * * * * * *
Martha Claussen served as publicity director at Sam Houston Race Park for ten years. She continues to be active in writing, fan education and Quarter Horse racing publicity in Texas, Louisiana, Indiana and other regions in North America.