RACING THIS WEEK
FEATURES
SERVICES
The 2023 Heritage Place Yearling Sale will be held 21st, 22nd and 23rd.

© Amanda Glidden / Plugged In Marketing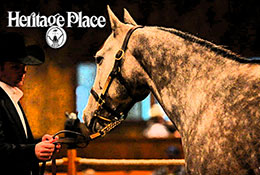 Heritage Place Announces Three-Day Event for 2023 45th Annual September Yearling Sale
OKLAHOMA CITY, OK–SEPTEMBER 28, 2022–Upon completion of this year's record breaking Quarter Horse Yearling Sale with an average of $38,731, a 14% increase over last year, two head selling for over $500,000 and 39 head for $100,000 or more, Heritage Place is pleased to announce a three-day sale for the 45th Annual Quarter Horse Yearling Sale.
The sale will be September 21st, 22nd and 23rd, 2023.
Sale festivities will begin with a pre-sale party beginning Wednesday evening September 20th, 2023. The pre-sale party will include food, drinks, live music and is a great time to socialize with friends and look at prospective race yearlings.
The Quarter Horse Yearling Sale is the largest offering of Quarter Horse Yearlings annually. Since 2019 the sale has produced RECORD BREAKING results in all categories at the conclusion of each sale.
"With the anticipated foal crop numbers coming up we are going to add another day to the sale to better accommodate our customers," Heritage Place CEO Jeff Teebow and Heritage Place General Manager. Spence Kidney said in a press release today.
"The catalog will be limited to 750 horses and all consignments will be reviewed for acceptance to the sale just as they are now. This schedule will shorten the sale time approximately 2-3 hours each day to provide a more enjoyable experience for our customers."
"We want to say thank you to the industry for your business and loyalty to Heritage Place for the past 44 years. We will continue with our commitment to serving your horse auction needs and provide the best marketplace for Racing American Quarter Horses.
Thank you again for allowing Heritage Place to remain the place 'Where Champions are Sold', they concluded.
For additional information visit the sale company website at heritageplace.com or call (405) 682- 4551.