RACING THIS WEEK
FEATURES
SERVICES
Hip #1 Hott Corona, consigned by Ralph Danard (far right) was the sale's high-seller purchased for $15,500 by Dale Kukoswki (far left).

© Courtesy Canada Quarter Horse Cup Sale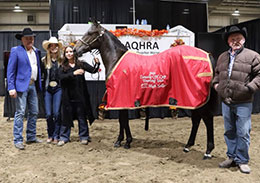 Across The Board Increases Seen For Canada Quarter Horse Cup 26th Annual Sale
RED DEER, ALB—SEPTEMBER 18, 2021—
The Alberta Quarter Horse Racing Association's 26th annual Canada Quarter Horse Cup Sale held Friday (Sept. 17) at Westerner Park enjoyed across-the-board increases over last year.
From the 27 horses cataloged in 2021, 17 were offered and 12 sold for gross receipts of $84,200, a 14% increase compared to 15 of 24 horses sold in 2020 for $74,000. The 2021 $7,017 average was a 42% increased over 2020's $4,933. The Median rose to $5,250 compared to $3,500 at the 2020 sale.
The 2021 sale had 16 yearlings pass through the ring for $76,000 gross and a $7,600 average.
Dale Zukowski purchased this year's high-seller, Hip #1 Hott Corona, a yearling colt by Obsessed With Corona for $15,500. Ralph Danard consigned the brown colt who is the first foal from the multiple stakes winning Tres Seis mare Im Hott Ur Nott. This is the female family of Ruidoso Futurity(G1) winner Red Clay Of Texas and All American Futurity(G1) winner and champion sire Royal Quick Dash.
The sale's second high-seller as a tie at $12,000 between Hip #9 Northfork Boss and Hip #22 O Seeyalater.
The partnership of Gehring, Stockwell and Willis purchased Hip #9 Northfork Boss, a gelded yearling from the first sale crop of stakes winner JD Wagon Boss, out of the stakes-placed Spanish Boot mare Northfork Babe. K. Glenn Willis consigned the bay gelding. This is the family of stakes winner Northforkzoom.
Jeff Rath had the final bid on Hip #22 O Seeyalater, a yearling daughter of leading Canadian sire First Timber from the stakes-placed and Grade 1 finalist Howdoyado by Pappasito. Wesley Oulton consigned the brown filly from the family of world champion See Me Do it.
Jeff Rath was the sale's leading buyer with two purchases grossing $20,000. Dale Zukowski had the one for $15,500 and the partnership of Gehring, Stockwell and Willis had the one for $12,000.
Wesley Oulton was the sale's leading consignor or agent with two head grossing $20,000. Ralph Danard had one sale for $15,500 and K. Glenn Willis had one for $12,000.
Obsessed With Corona led all sale sires (by average with two or more sold) with two for a $10,200 average. First Timber had two sell for a $10,000 average and first sale-crop sire JD Wagon Boss saw four yearlings average $6,500 each.
For preliminary results, including hip-by-hip prices, CLICK HERE.