RACING THIS WEEK
FEATURES
SERVICES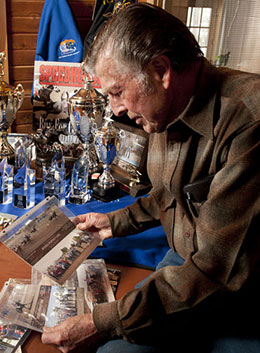 © Speedhorse Magazine

Jim Walker, Owner Of 2016 Champion Zoomin For Spuds, Passes Away
LOS ALAMITOS, CA—JANUARY 22, 2020—
Jim Walker, who bred and raised AQHA Supreme Racehorse and 2016 Champion of Champions winner Zoomin For Spuds, died on Tuesday, January 21. He was 87.
Walker campaigned horses at Los Alamitos for more than a decade led by the 2016 AQHA champion 3-year-old gelding Zoomin For Spuds. Walker also bred and raced Bux For Cocktail, a full-sister to Zoomin For Spuds, Time For Jesse Lee, a graded stakes placed gelding, and Jesses Perfect One, a half-brother .. Read More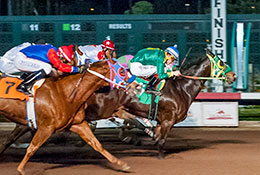 © Scott Martinez

EG High Desert Farms' Bail Czech Delivers Fastest Time To Brad Mckinzie Final
LOS ALAMITOS, CA—JANUARY 19, 2020—
EG High Desert Farms
' Bail Czech posted the fastest qualifying time while winning the first of three trials to the Grade 1, $159,550 Brad McKinzie Los Alamitos Winter Championship at 400 yards on Sunday night.
Ridden by Juan Pablo Leon for trainer Jorge Farias, Bail Czech won at 17-1 odds while covering the distance in the fastest time of :19.764. Farias is now the main trainer for EG High Desert Farms, a racing operation that perennially ranks among the top three in Quarter Horse wins at Los Alamitos.
In Bail Czech, Farias inherited a talented .. Read More
© Coady Photography

Ryansmanonthemoon is Morning-Line Choice for Dona Ana County Stakes
BY MICHAEL CUSORTELLI
SUNLAND PARK, NM—JANUARY 22, 2020—Ryansmanonthemoon, a Grade 1-winning son of champion First Moonflash, will make his 4-year-old season debut in Saturday's 440-yard, $100,000 Dona Ana County Handicap (R) at Sunland Park.
Trained by Cynthia Gonzalez for owners Jimmy Negrete and Jimmy Vasquez, Ryansmanonthemoon is coming off of a sophomore campaign during which he earned $308,181 from eight races and won three stakes, including the 440-yard, $200,000 Zia Park Ch .. Read More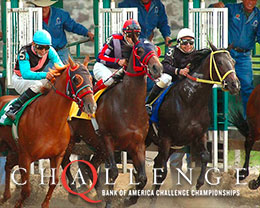 © Hipódromo de las Américas

Challenge Regional Nomination Payments Due In January
AMARILLO, TX—DECEMBER 31, 2019---
The road to the Bank of America Racing Challenge Championships kicks off on January 1, as regional nomination payments are due. New this year, in addition to the nomination payment, is a hair testing fee of $150.
The January 1 nomination payment of $400, plus the hair testing fee, is due for the Bank .. Read More