Tuesday, December 10, 2013
Member Stallion Search
Speedhorse Weekend WrapUp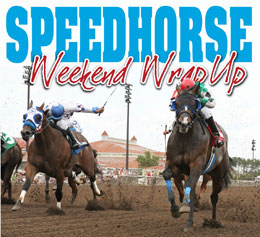 NORMAN, OK—DECEMBER 9, 2013—Speedhorse
Magazine's weekly webcast, the "Speedhorse Weekend Wrap-Up", posted on StallioneSearch.com every Monday, is now available. Remington Park announce Dale Day is sitting in today for former Hollywood Park and Remington Park announcer Jim Byers who hosts the show each week.
On today's edition Day cov ... Read more
---

Separatist Firstdown The One To Beat In $200,500 EVD Futurity At Evangeline Downs Racetrack & Casino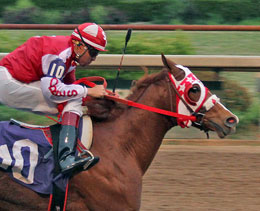 © Lou Hodges Photography
OPELOUSAS, LA—DECEMBER 9, 2013—
Separatist Firstdown, a Texas bred son of
Separatist
and a winner of six of nine races including a track record performance in his trial on November 23rd has been installed as the 2 to 1 favorite in the morning-line and is the one to beat in the $200,550 EVD Futurity, a ...
Read more
---

Native Tea Rose Delivers In The Las Damas Handicap
Scott Martinez
LOS ALAMITOS, CA—DECEMBER 8, 2013—
Abigail Kawananakoa's Native Tea Rose finished powerfully while edging Dean Frey's ultra consistent stakes winner Shez Jess Toxic by a neck to win the $35,000 Las Damas Handicap on Sunday at Los Alamitos.
Ridden by Ramon Sanchez for trainer Paul Jones, Native Tea Rose was picking up her second stakes vi ... Read more
---

Vodka With Ice Shakes Up Bank of America Challenge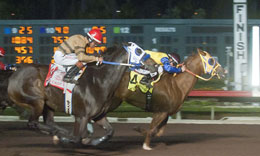 Scott Martinez Photo
LOS ALAMITOS, CA—NOVEMBER 9, 2013—
The $350,000 Bank of America Challenge Championship (G1) at Los Alamitos on Saturday ended with 2011 world champion Cold Cash 123 chasing 17-1 longshot Vodka With Ice, and a night of many surprises ended with one more.
Vodka With Ice, an 8-year-old gelding with earnings of less than $180,000 entering ... Read more
---

Graded Stakes Winner Van Zant to Stand in Oklahoma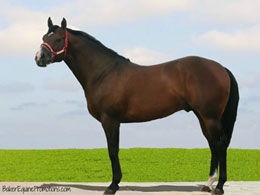 Courtesy Winter Creek Farms
ALEX, OK—DECEMBER 5, 2013—
Grade 3 stakes winner
Van Zant
SI 109 has retried from racing and will stand the 2014 season at
Winter Creek Farms
, near Alex, Oklahoma. His fee has been set at $1,200 with special consideration to approved mares.
Owned an ... Read more
---

---
Posted: 12/9/2013 4:01:00 PM
The Tulsa County fair board on December 3 gave its approval for another year of live racing at
Fair Meadows
. The board, formally known as the Tulsa County Public Facilities Authority, voted 4-0 to hold the races for the 26th consecutive year. The meet will be held June 5-July 26. The ...
Read More
---

Quick Stakes Results
---
Sponsored By: Corona Cartel Syndicate

AQHA Current Year Leading Sires
November 2013
October 2013
September 2013
---